Nanoscience Instruments will be exhibiting in Booth #317 at the American Institute of Chemical Engineers (AIChE) Annual Meeting in Orlando, FL from Nov. 10-12, 2019.
Stop by to discuss your application challenges with our veteran applications scientists and learn about our solutions for quantifying nanoscale surface characteristics: Attension Optical Tensiometers for fast contact angle measurements, and QSense Quartz Crystal Microbalance with Dissipation (QCM-D) the first instrument for measuring adsorption/desorption behaviors on surfaces with modeling capability.
If you have an immediate need for surface measurements, we offer a variety of analytical techniques on a contract basis. Please inquire.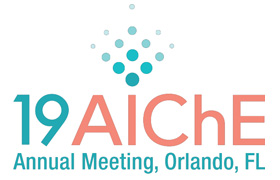 Exhibition Dates:
November 10-12, 2019
Exhibition Hours:
Sunday, November 10 | 6:30 – 7:30 PM
Monday, November 11 | 9:30 AM – 5:00 PM
Tuesday, November 12 | 9:30 AM – 5:00 PM

Location:
Hyatt Regency Orlando
Orlando, FL
More Info:
AIChE website