Thin films of silicon carbide (SiC) on graphite are used in the semiconductor and LED industries. These films are made by chemical vapor deposition (CVD). Structure and stoichiometry are evaluated using SEM imaging with EDS for elemental analysis.
The Phenom SEM is used to measure film thicknesses and surface morphology as a function of processing parameters. The Phenom data immediately provide critical feedback of SiC diffusion into the graphite and the crystal structure of the surfaces. Heavier elements are brighter in the BSD SEM image, providing visual evidence of the SiC in the graphitic substrate. The elemental analysis from EDS shows the elemental composition of the films.
Evaluate Processing of Thin Films
Thin film materials processing covers a range of techniques, including deposition and etching. Lasers are often applied for etching, scribing, or marking defects. The Zeta 3D optical profiler, able to image a surface in 30 seconds, quickly acquires metrology data to analyze laser processing of thin films.
Accurate Edge Detection
Trenches are often created using laser ablation to separate materials in thin films. The integrity, dimensions, and pileup of the trench need to be determined for product development and improvement. Indium tin oxide (ITO) thin films on the glass are used in flat panel displays, transparent electrodes, and organic light emitting devices (OLED). Laser ablating trenches in ITO coatings on the glass are used for high-efficiency structuring of transparent conductors. Laser direct write (LDW) is a maskless, dry process that allows easy change of the contact pattern. Well-defined edges and good electrical isolation at a short separation between conductor lines are required. Sharp edges are especially important when the distance between the conductor lines shrinks down to 10 μm.
A laser confocal tool will show interference artifacts on such transparent samples with irregular topography, whereas the Zeta 3DTM optical profiler using the ZDotTM focusing technology is able to acquire meaningful data on such samples. This scribe is 8.6 µm in width and 0.2 µm in depth, showing clearly defined trench edges.
Trench Dimensions
In thin film solar cells, electrical isolation is important and for this, trenches are created to isolate the P and N-doped regions of the solar cell. In some thin-film cells, the laser scribe should not breach the underlying glass substrate and must be contained within the thin films. The trench may also be heavily textured to increase light absorption. Controlling the trench dimensions and the surface texture is key to improving the efficiency of the solar cell. For this, ultrafast-pulsing lasers are used to produce cleaner, sharper micro-channels. The challenge is to automatically locate these trenches on large panels and provide critical information about their roughness, depth and width.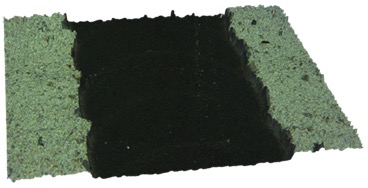 The scribe shown above is 74 µm in width and 0.50 µm in depth. The Zeta 3DTM optical profiler uses a high precision motorized XY stage and pattern recognition software to automatically detect the scribe lines and scan multiple locations on the solar cell.
Measure Laser Scribe Dimensions
Laser scribing is a widely used technique to separate an LED wafer into individual dies. The scribe process creates a deep and narrowing trench and leaves behind a lot of debris. Such a geometry precludes the use of normal imaging tools such as interferometers and laser confocal microscopes. Zeta's high-efficiency optical design and the ZDotTM focusing technology allows the maximum possible light to be collected from such a sample. The scribe shown above is 9.1 µm in diameter and 15.84 µm in depth, with very rough, tapering side walls.
Evaluate Laser Power Effects
The Zeta 3D optical profiler provides fast metrology data. The effect of laser power on an aluminum coating is determined using 3D images of resulting craters.

Research using different pulsed wattage laser power shows how it correlates to the depth and shape of the crater on a variety of materials. Shown here are craters created on a tungsten surface coated with aluminum, scanned with the ZDotTM focusing technology.