Nanoscience Instruments, an industry leader supplying scientific instrumentation, recently added four new scientists to its Sales and Applications teams.  These new employees provide additional support at the laboratories in Arizona and Virginia. This expansion also establishes a new presence in southern California and New England.
Cliff Mathisen brings to the team a variety of technical expertise including scanning electron microscopy, fluorescence imaging, and optical profilometry. With 7 years of experience in Applications and Technical Sales, Mr. Mathisen is looking forward to enabling customers with workflow-based solutions at Nanoscience Instruments.  Mr. Mathisen is based near Boston, MA.
Milan Mitich has 15 years of analytical laboratory and lab management experience combined with 15 years of instrumentation sales and sales management experience.  Mr. Mitich has an MBA and will expand Nanoscience Instruments presence in the western US region.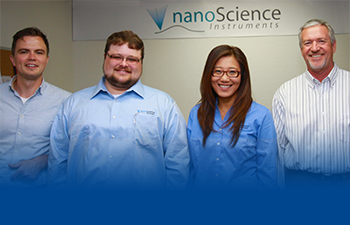 "Expanding our team both geographically and scientifically is an important aspect of our overall growth," explains Mark Flowers, co-founder. "Connecting with our customers on multiple levels has been very rewarding for the Nanoscience Instruments team."
Dr. Nannan Tian joins Nanoscience Instruments from Purdue University where she applied nanoindentation to characterize a variety of solid materials, including wood, bone, concrete and polymers. Dr. Tian will provide application support to customers, focusing on nanoindentation & micromechanical testing.  Her expertise in materials science applications will also expand the range of solutions with optical, electron, and scanning probe microscopies.
Nicholas A. Moore brings to Nanoscience Instruments a multidisciplinary background with 8 years of experience at William and Mary's Applied Research Center Surface Characterization Laboratory. Mr. Moore has a degree in Biology from Old Dominion University and will be supporting customers using optical profilers, atomic force microscopes and scanning electron microscopes.
"We are very excited to introduce our new staff," says Dr. Sebastian Kossek, Nanoscience Instruments' co-founder. "They broaden our range of technical expertise to address current and future applications and instrumentation."
The recent expansion continues the growth and investments made in previous years.  Nanoscience Instruments purchased the Service and Support division from Phenom World North America to service SEM customers directly in 2013.  In 2014 Nanoscience Instruments expanded its Phoenix, AZ headquarters. The company opened a new office in Alexandria, VA, and added new staff to accommodate previous growth and additional product offerings, including the iNano nanoindenter and Nano-Observer atomic force microscope.
About Nanoscience Instruments
Nanoscience Instruments provides and supports a wide variety of surface science and nanoscale microscopy instrumentation, including benchtop SEMs, portable AFMs & STMs, 3D optical profilers, nanoindenters, micro and nanomanipulation systems, as well as consumables and accessories for these instruments.