Generating and depositing nanoparticles at the push of a button with VSP G1 & VSP Accessories
The next generation of batteries, fuel cells and industrial catalysts all require nanomaterial production.
Existing methods to produce nanoparticles are typically based on wet chemical methods that are characterized by a sequence of trial and error reiterations. These methods translate into long recipe development time (months), very low success rates (dozens iterations required) and limited nanoparticle size and composition control.
Learn how it is possible to generate well-defined pure nanomaterials, without the use of precursors and surfactants, in minutes. All conductive or semi-conductive materials can be made. Typical sample preparation takes from 1 to 60 minutes.
Producing desired nanoparticles now becomes as easy as pushing a button. Going from hypothesis to results in the same day is now a possibility.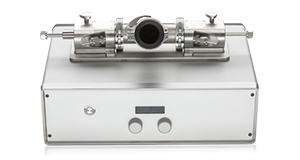 VSParticle Nanoparticle Generator Product Overview