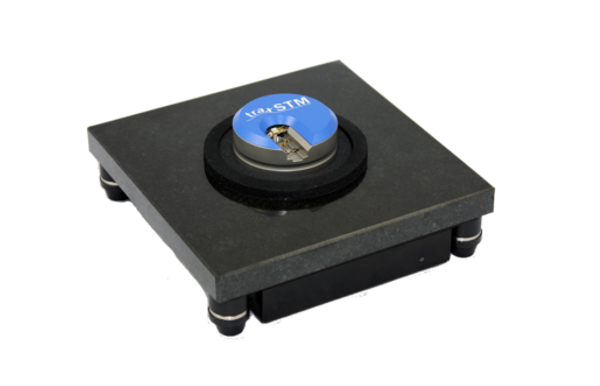 The traxSTM fits into advanced labs for physics, chemistry, engineering and general nanotechnology introduction. High schools, community colleges, and universities use the system for classroom instruction and teaching laboratories.
Portable and compact: Easy to install with a small footprint
Quick atomic resolution on a table: No need for expensive vibration isolation
Easy to use: Ideal for nanotechnology education and outreach
Accessible sample stage and scanning tip: Quick exchange of tip and sample
Low operating voltage: Safe for all users

---
Features
The traxSTM is the ideal scanning tunneling microscope for an introduction to nanoscience. The traxSTM integrates control electronics with the scanner, which reduces the footprint and overall size of the system. Our traxSTM is an all-in-one instrument that is easy to use anywhere.
Get atomic resolution in minutes with the traxSTM. This all-in-one scanning tunneling microscope has simple handling with reliable operation. The controller and scan head are integrated with a single device. The STM has low-cost consumables – cut your own tips & start imaging atoms!

---
Specifications
| Category | TraxSTM Specification |
| --- | --- |
| Maximum XY-range | 500 nm |
| Maximum Z-range | 200 nm |
| Current amplifier | max 100 nA |
| Imaging modes | Constant Current (topography), Constant Height (current) |
| Spectroscopy modes | Current–Voltage, Current–Distance |
| Lithography modes | Patterning, Modification |
| Size (LWH) | 204 x 204 x 104 mm |
---
Options & Accessories
Camera for view tip-sample distance
Advanced Modes Option

Spectroscopy: Current-voltage, stop by end value, forward and backward pause
Lithography: Draw and load CAD vector graphics, bitmap images
Isolation stage

SPIP post processing software