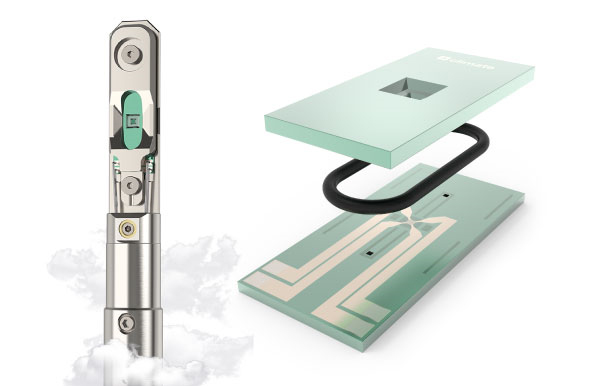 Climate is the only solution on the market that brings a fully functional Nano-Reactor to the TEM. Expose samples to controlled and dynamic gaseous and heating conditions while collecting high resolution image, spectra, and reaction kinetics data. The full platform has customizable options to elevate and accelerate your materials research while preserving performance of the TEM.
Realistic Reaction Conditions
Closed cell supports pressures up to 2 bar
Finely tune up to 3 input gases on the fly
Measure Reaction Kinetics
Measure gas conversions in real time
Talk to an
Instrumentation Specialist

Today!
The revolutionary Climate Nano-Reactor has been redesigned to make every aspect of your in situ TEM workflow streamlined.
Directly deposit catalyst nanoparticles samples onto the Nano-Reactor using drop casting techniques.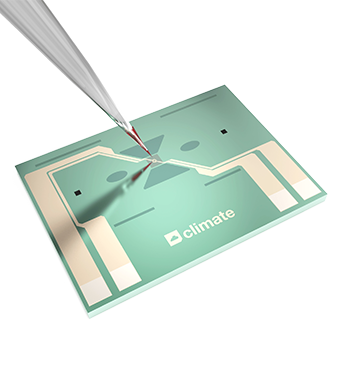 Engineered top chips combined with the holder's exceptional stability allow for elemental maps to be acquired within a relatively short period of time. 
Crossing the pressure gap
The Nano-Reactors unique construction can withstand pressures up to 2 mbar, allowing you to study catalysts under industrially relevant conditions.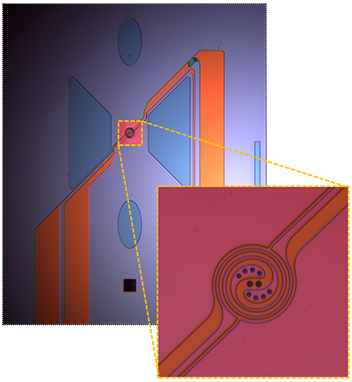 Proven MEMS technology delivers superior performance in temperature accuracy, reliability and stability around 10 electron transparent windows.
Assess catalyst activity through measurement of heat dissipation and absorption, thus providing powerful structure-activity relationships.
Denssolutions Climate Videos & demos
Additional Modular Details
By integrating all control functions into a single platform with a small and mobile footprint, managing your in situ TEM experiment becomes a breeze. Programmed by Impulse Software, the user has full control over reproducible experiments via an intuitive user interface.
Ultra-fast flow control unit
Change gas conditions in the sample area takes less than 15 seconds.
Twin pressure controllers
Perform experiments at equal pressure and different flow rates or at equal flow rates and varied pressures.
Patent-protected mixing valve
This innovation eliminates the need for a mixing tank and makes changing the gas composition within the Nano-Reactor happen within seconds.
Dynamic mixing up to three gasses
The Gas Supply System can mount up to three 10-L gas cylinders that are connected to inlets attached to calibrated mass flow controllers.
The Climate in situ sample holder provides a platform for connecting the Gas Supply System to the sealed Nano-Reactor inside the vacuum of the TEM. Fabricated with the highest precision techniques, the holder will fit seamlessly into the microscope's goniometer.
Alpha tilt range depends on system.  Up to ± 21° (depending on polepiece) with JEOL and up to ± 35° (depending on polepiece) with Thermo Fisher Scientific.
Exchangeable tubing & removable tip

A modular design allows each component to be cleaned or replaced, ensuring each new experiment is free from cross-contamination. 

Mechanical stability

Achieve atomic resolution in TEM and STEM in static and flow modes. Achieve a drift rate lower than 0.5 nm/min depending on microscope configuration.

Upgrade benefits

Easily upgrade to the latest generation components, ensuring your research is always at the forefront of what is possible with in situ TEM.
The Gas Analyzer is designed to work seamlessly with the Climate system to enable real time analysis of reaction products and transforming your experiment into an operando TEM workflow.
Gas Analyzer specifications
Gas Analyzer Specifications
Mass range (amu)
1 – 100
Pressure range (mbar)
FC: 5*10-11 – 1*10-4
EM: 5*10-14 – 1*10-6
Gas sensitivity
< 5 ppm (CO2)
Turbo pump
Included
Bake-out temp.
120⁰C
Sample valve
Included
FC = Faraday cup | EM = Electron multiplier | Residual gas analysis of methane production over Pd nanoparticles
Elevate your in situ experiments by humidifying any gas mixture.
Independently control gas parameters and amount of water vapor
Add vapor to the gas mixture at the very last stage before it enters the holder
Safely work with explosive mixtures by working with very low volumes of humidified gas
Want to learn more?
Talk to a scientist: