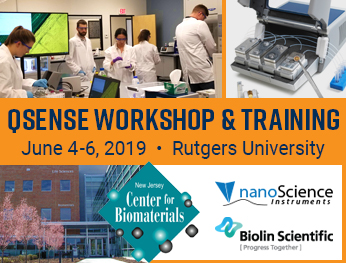 We invite you to join Nanoscience Instruments for a QSense Workshop & Training Course on June 4 – 6th at the New Jersey Center for Biomaterials, Rutgers University, NJ.
The free workshop on June 4th with the theme "Quantifying Nanoscale Interactions At Surfaces" will feature:
Invited talks from the wide range of applications including in the fields of biomaterials, pharmaceuticals, material science, polymers, etc.
QSense instrument demonstrations
A complementary lunch for all participants
This is a great opportunity to meet, share and network with other QSense users in different fields of scientific research.
The 2-day training course on June 5 – 6th will provide hands-on training of the QSense instrument & QCM-D analysis and an overview of the QCM-D technology & related routine applications.
You'll gain the hands-on experience needed to operate Biolin Scientific QSense instruments and you'll learn how to interpret the data for your application. QSense methods and protocols will be reviewed and used throughout the course.
Workshop and Training Course space is limited. Registration is on a first come, first served basis and is required so that we may prepare for lunch and training materials. Please note that there is a fee for the training course and a representative from Nanoscience Instruments will contact you regarding payment.


Schedule:

Download the Workshop Abstract Book & Schedule
8:30 – 9:30: Welcome, registration, and opening remarks

9:30 – 10:00: Speaker – Dr. Joachim Kohn, Rutgers University
An overview of the use of QCMD at the New Jersey Center for Biomaterials
10:00 – 10:40: Speaker – Dr. Archana Jaiswal, Nanoscience Instruments
Using QCM-D for Detergent Cleaning Efficiency and Degradation Studies

10:40 – 11:20: Speaker – Dr. Songyan Zheng, Bristol-Myers Squibb
Impact of Interfacial Interactions in Biological Drug Product Development

11:20 – 12:00: Speaker – Dr. Jennifer Chen, Drexel University
The Use of Dissipation Monitoring of the QCM-D to Study Cell-Substrate Adhesion and Cell Signaling

12:00 – 1:00: Lunch

1:00 – 1:40: Speaker – Dr. Sanjeeva Murthy, Rutgers University
Using QCM-D To Study the Kinetics of Adsorption of Proteins and Nanospheres

1:40 – 2:20: Speaker – Dr. Connor Bilchak, University of Pennsylvania
Gas Transport of High-Performance Polymer Composite Membranes: Insights From QCM-D Technology

2:20 – 3:00: Speaker – Dr. Detlef Matthias Smilgies, Cornell University
QCM-D Applications in Food Science and Plasmonics

3:00 – 3:40: Speaker – Dr. Robert Mosley, Rowan University
Using the Quartz Crystal Microbalance to Model Surface Interactions of Complex Drug Delivery Nanoparticles

4:00 – 5:00: Demonstrations