Industrial Electrospinning Machine
The Equipment of Choice for Industrial Manufacturing and Commercialization
The Fluitnatek HT Industrial Electrospinning Machine is the ideal industrial equipment when large scale production and sample reproducibility are needed. This industrial electrospinning line capitalizes on the know-how and experience in the field of materials processing by Bioinicia.

---
Industrial Electrospinning Machine Features
The Fluidnatek HT provides state-of-the-art features for industrial scale production and commercialization of electrospun products under GMP and reproducible performance. This equipment offers the capability to use 5,500+ simultaneous needles, a 1.6 meter wide roll substrate, up to 50 L of solution, and tightly control temperature and relative humidity with its environmental control unit (ECU) for batch-to-batch consistency. Some of the safety features include an actively regulated exhaust system to remove solvents continuously and dynamically, along with preventing them from escaping the spinning chamber. If flammable solvents are to be used, the Fluidnatek HT allows you to work under an inert atmosphere (with very low oxygen concentration) to further increase safety aspects to the user and the facility.
Selected Standard Features:
Industrial scale production unit for product commercialization
Industrial Roll-to-Roll system
Touchscreen controls
Bottom-up configuration
Primary high voltage power supply for the emitter
Secondary high voltage power supply for the collector
Gravimetric controlled continuous solution feeding system
10 kg/h+ solution mass flow rate (solution dependent)
Non-spill quick connectors
Environmental Control Unit ECU (temperature and relative humidity)
Single-phase multi-emitter spinning head
Safety shut-off switches in the access door
Actively regulated exhaust system
---
Industrial Electrospinning Production Capacity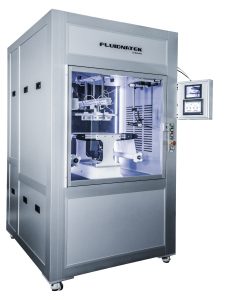 580 thousand masks per month
7 Million masks per year
7 Million masks per month
84 Million masks per year
Specifications
Model

Fluidnatek HT

Maximum width of samples (mm)
1,600
Maximum number of syringe pumps
N/A
Maximum number of needles
5,500+
Maximum voltage drop (kV)
120
Maximum volume per batch (mL)
50,000
Dual polarity
Standard -60 kV
Automatable axes
1 (X)
Solvent gas jacket
Optional
Taylor cone visualization camera
N/A
Ultraclean cabinet (HEPA/ULPA exhaust filtration)
Optional
UV-C lamps
Optional
Remote ethernet access
Yes
Actively regulated exhaust
Standard
Relative humidity & temperature conditioning
Standard
Dimension, W x D x H (cm)
900 x 260 x 220 (HT)
300 x 150 x 200 (ECU)
More info
Compare with all Fluidnatek Models