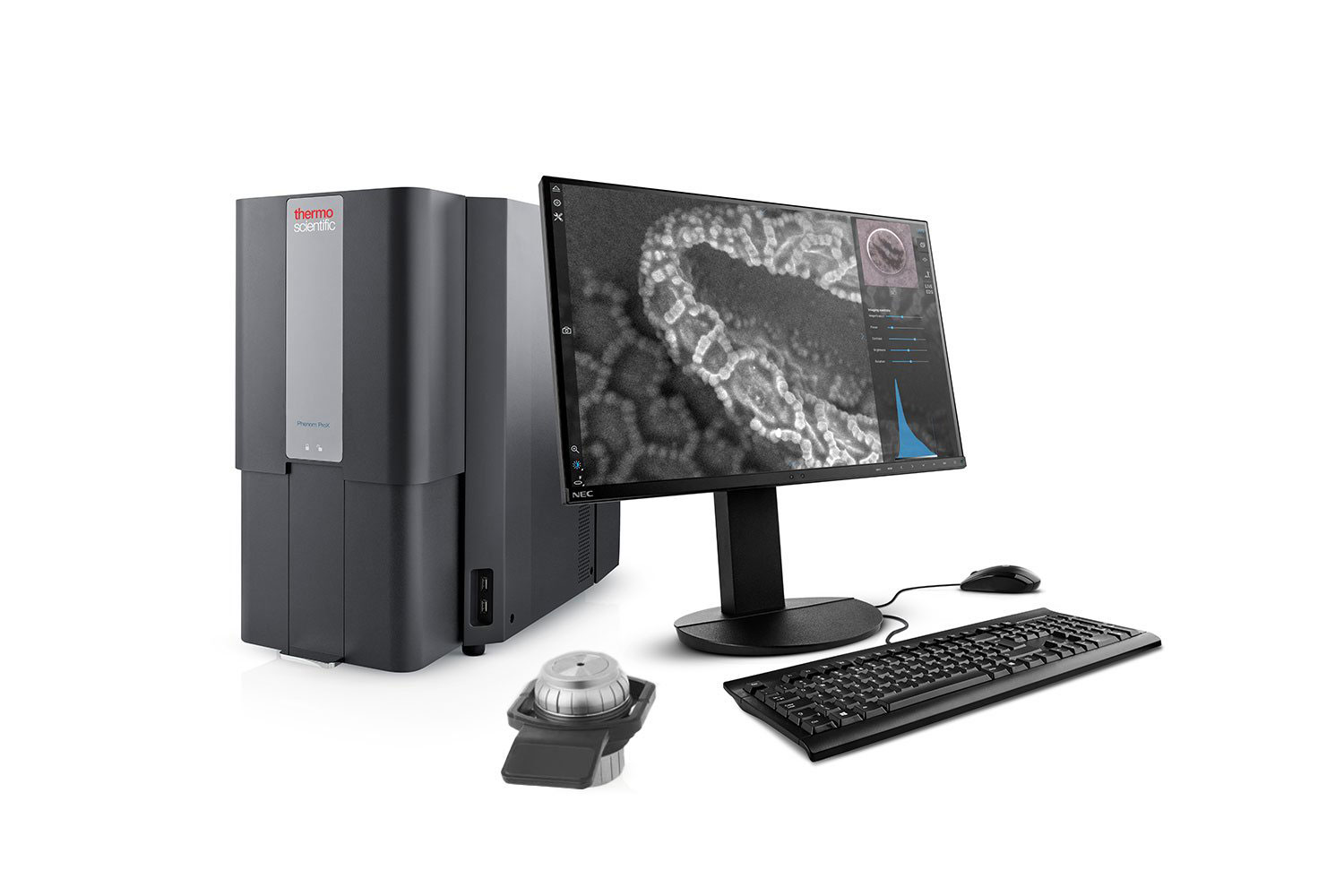 The Phenom Pro and ProX desktop SEMs are high-performance SEMs for the ultimate all-in-one imaging and X-ray analysis systems. A unique and powerful core architecture combines with a host of hardware and software features to provide the most complete desktop SEM solution on the market. Phenom SEMs are equipped with a high brightness Cerium Hexaboride (CeB6) source, allowing for better image resolution through the range of accelerating voltages and a longer source lifetime compared to tungsten sources.
High brightness, long lifetime CeB6 source
30 seconds from loading to electron imaging
Designed to be easy to use for both new and experienced users
Phenom Pro can be easily upgraded to the ProX on-site
Phenom Pro / ProX Features

The Phenom Pro desktop SEM is optimized to be the ultimate all-in-one imaging system for any application. For those wanting X-ray elemental analyses, the Phenom ProX comes with our EDS detector. This analysis is fully integrated into our updated user interface, which allows for seamless operation for both new and experienced users.
The innovative design of the Phenoms provides a list of advantages over other desktop SEMs:
Multiple acceleration voltages (4.8-20.5kV)
Color optical camera for single-click navigation
Charge reduction mode reduces need to coat samples
Upgrade to ProX for fully integrated elemental analysis with EDS detector option
Secondary electron detector option
Small footprint – no infrastructure needed
Low maintenance
High stability with vibration isolation design
Multiple sample holders are designed for optimizing sample imaging
Talk to an
Instrumentation Specialist

Today!
Phenoms are always ready for immediate operation with very low downtime. Unlike tungsten filament-based SEMs which require frequent replacements, electron source changes of Phenoms are far and few between due to incredibly long source lifetimes.
Intuitive Operation and Software
The operating software of each Phenom is clear and navigable, offering easy mouse click and keyboard control with intuitive adjustment of all electron beam settings and imaging parameters — without relying on overwhelming menus or convoluted tutorials.
The Phenom is the only SEM that is insensitive to vibrations. It can be used in noisy environments and does not require special tables or vibration isolation platforms.
Phenom Pro/Prox Image Gallery
Phenom Pro / ProX Videos & demos
Phenom Desktop SEM Detector Options
The Phenom Pro/ProX desktop SEM is compatible with several detectors, including:
See available Sample Holders
Phenom P-Series Desktop SEM Sample Holders
The Phenom P-Series lineup of desktop SEMs is comprised of the Pharos, Pro/ProX, and Pure systems, each compatible with a variety of sample holders for highly specialized applications.
Ensure crisp imaging and high quality analysis with automated sample preparation tools.