Nanoscience Instruments, a trusted supplier of innovative scientific instrumentation, has curated solutions that support scientists in pursuit of advancements in their respective fields of chemical engineering. From generating novel nanomaterials to characterizing their properties and probing their interactions at the molecular level, our solutions enable unique experiments with powerful results.
Peruse our assortment of technologies for:
Quantification of Molecular Interactions & Viscoelastic Properties at Surfaces and Interfaces
Automated Wettability Analysis & Surface Characterization using Tensiometry
Nanomaterial Fabrication (Nanoparticles & Nanofibers)

Fabricate nanofibers or nanoparticles via electrospinning
Generate nanoparticles of any (semi)conductive material via spark ablation
Studying Dynamic Processes at Surfaces and Interfaces
The Quartz Crystal Microbalance with Dissipation monitoring (QCM-D) technique enables real-time analysis of dynamic molecular processes under vacuum, gas, and liquid media. The measurement of the unique dissipation constant, which differentiates QCM-D from QCM, enables quantification of viscoelastic properties in addition to mass changes with a high level of accuracy. QCM-D data can be interpreted to determine: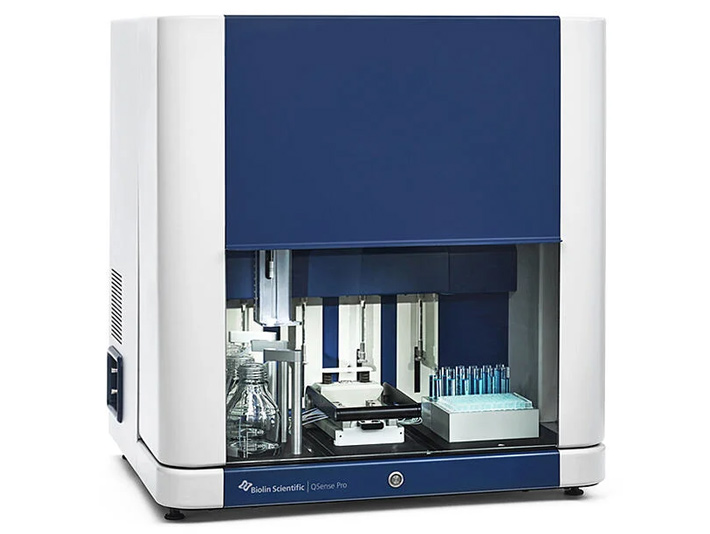 QSense instruments enable real-time measurement of mass and viscoelastic properties at surfaces and interfaces, allowing for quantification of molecular adsorption, desorption, and structural properties.
Real-time analysis of dynamic molecular processes
Time-resolved interaction kinetics data with 5 ms resolution
The QSoft software captures up to the 13th harmonic for superior accuracy
Plug-and-play modules for concurrent light microscopy, ellipsometry,
electrochemistry, and more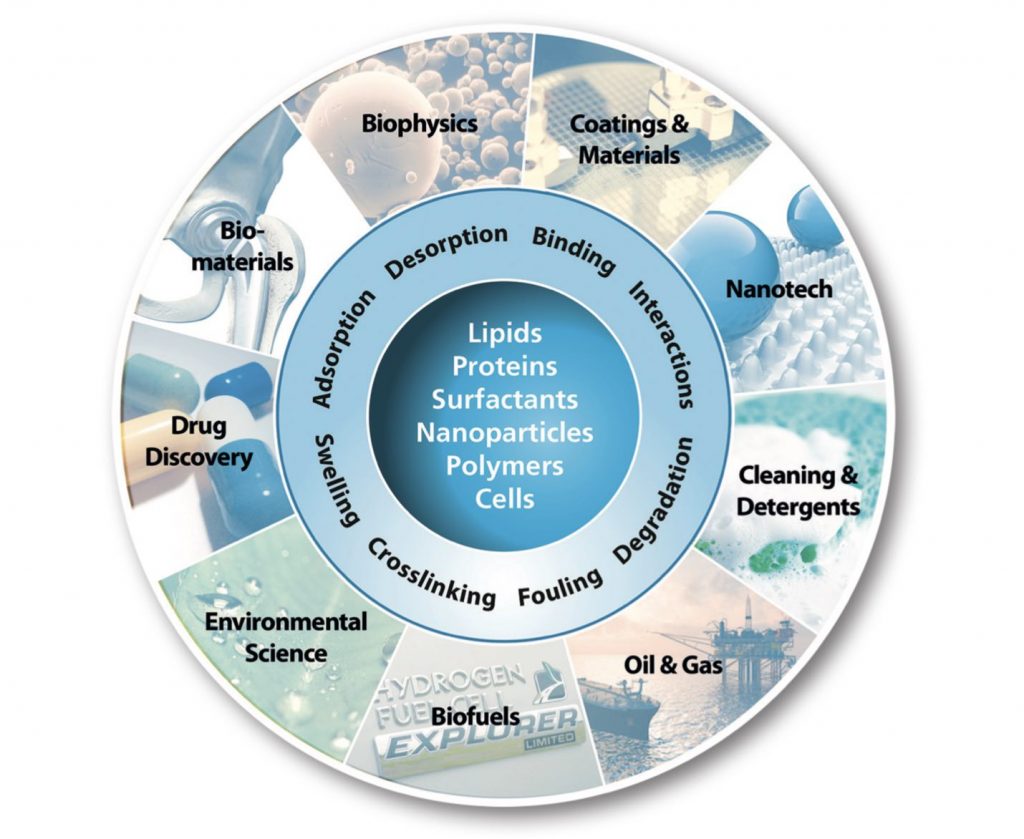 QSense offers the widest range of QCM-D sensors on the market to support a wide variety of applications. Each QSensor is developed and produced in world-class, in-house facilities, with extensive testing that guarantees reliability and quality.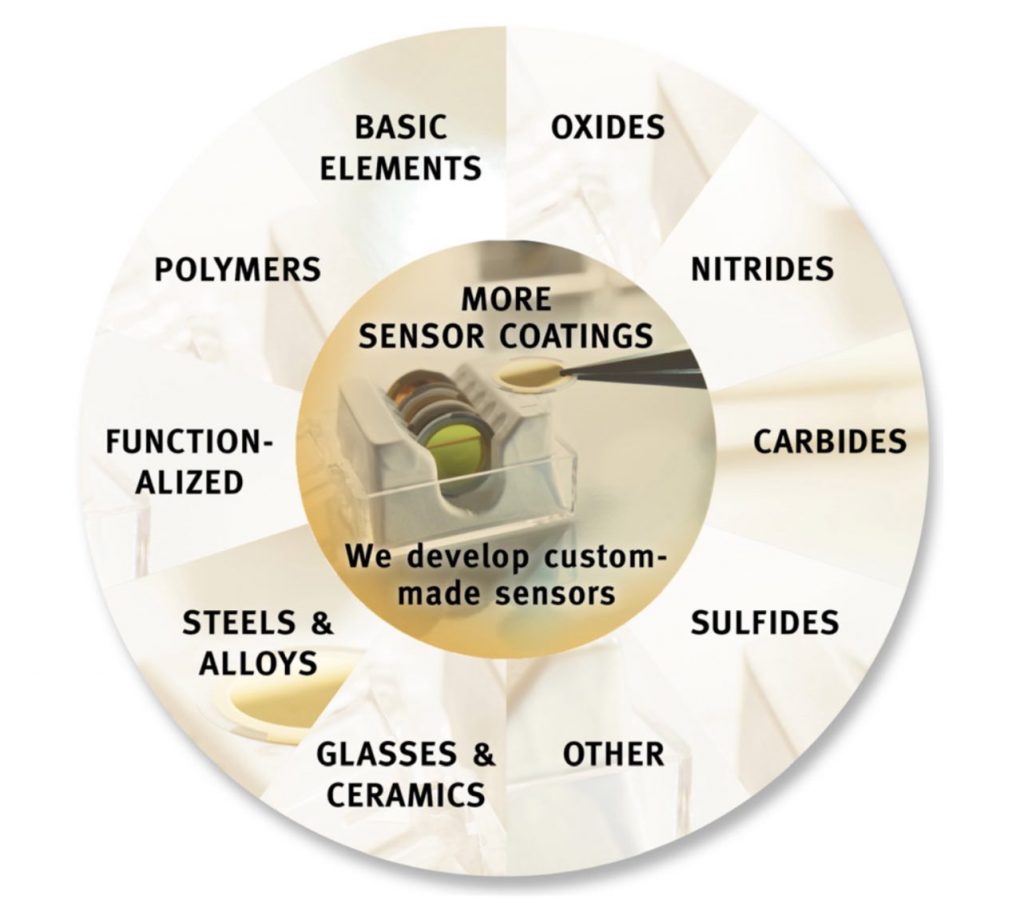 Automated Wettability Analysis & Surface Characterization
The Attension Theta Flow optical tensiometer delivers accurate, traceable, and repeatable data across experiments with minimal user intervention. The Theta Flow leverages its advanced features to accurately and repeatably characterize surface properties of materials using sessile drop, dynamic contact angle, surface free energy, captive bubble, pulsating drop, and other advanced measurements related to wettability.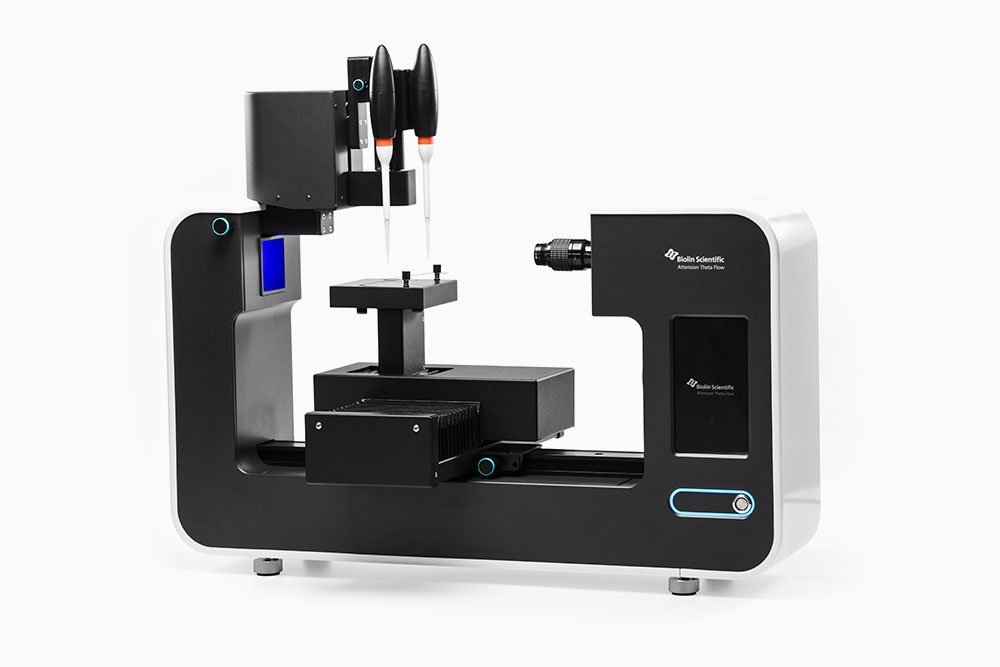 Automated optical tensiometry platform with easily interchangeable modules for surface topography and picoliter-volume contact angle studies
Plug-and-play modules controlled by pre-programmable recipes create an easy workflow
Maintains high accuracy, traceability, and reproducibility across experiments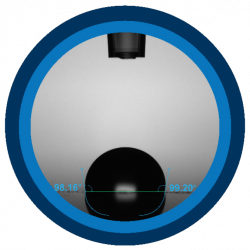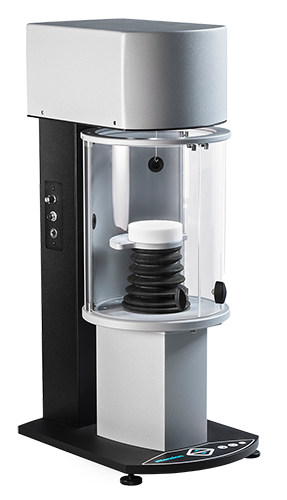 The Sigma 700 automated force tensiometer accurately measures mass uptake through liquid imbibement, wettability properties, surface and interfacial tension, dynamic contact angle, and a host of other surface characteristics.
Comprehensively study density, sedimentation, adhesion force, contact angles, and surface free energies
Live analysis yields rate of absorption
Complete flexibility to study solids, liquids, and powders
Nanomaterial fabrication (Nanofibers & Nanoparticles)
The development of novel materials are unlocking possibilities for cleaner, more efficient, and more powerful technologies. Unique techniques capable of fabricating nanomaterials are becoming more important as we continue to learn more about how surface and chemical properties change at the nanoscales. Our solutions for nanomaterial fabrication encompass techniques that generate nanofibers and nanoparticles of polymers, metals, and other materials. Each system is also compatible with an array of accessories that assist in collecting and depositing the nanomaterials of choice onto substrates, medical devices, and many other support materials for many different applications.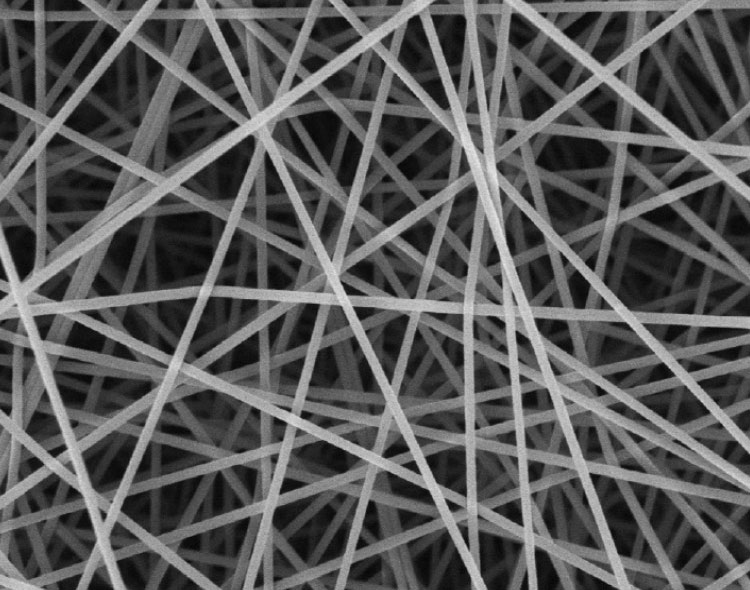 Our suite of electrospinning equipment includes the Spinbox, LE-50, LE-100, LE-500, and the industrial-scale High-Throughput (HT), which are designed to fabricate nanofibers and nanoparticles with tunable morphologies. These systems enable scalable electrohydrodynamic processing of a wide range of polymers and other solutions, and deliver reproducible, precise, and highly homogeneous fibers and particles.
Unrivaled Reproducibility and Scalability
The instruments developed by Fluidnatek are engineered to produce consistent, high-quality results across the entire equipment series. Recipes developed on entry-level and research units can be transferred to larger systems for higher throughput fabrication. Many multi-emitter spinning heads can be implemented to improve throughput of fiber and particle production.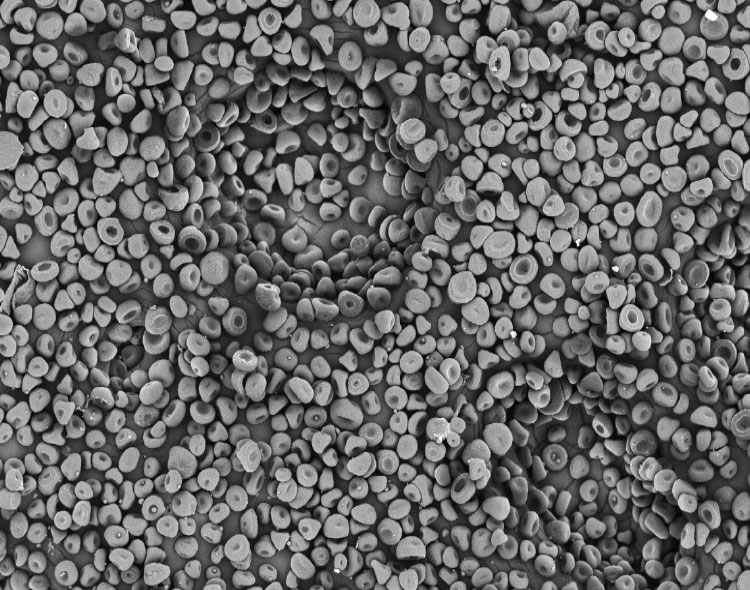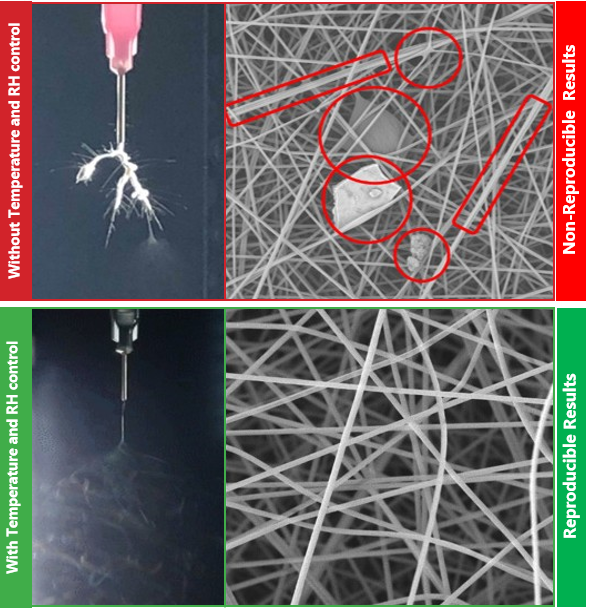 Temperature and Relative Humidity Control
Fluidnatek's exclusive environmental control unit enables full temperature (T, 18-45°C), relative humidity (RH, 10-80%) and air flow control (50-180 m³/h) during fiber/particle deposition, which ensures a defect-free and uniform microstructure for the final product. This air is filtered through a HEPA filter to maintain clean conditions during manufacturing. By tightly controlling T and RH, the rate of solvent evaporation is properly managed and optimized to have a stable product development and allow to spin easily clogging solutions all year round.
Maximum Versatility and Flexibility
Multiple applications require harsh organic solvents to produce special fibers and particles. Due to this, the Fluidnatek units are designed with chemically resistant cabinets and offer proper ventilation system to exhaust all fumes released in the process. These units are also designed to process most materials. Examples include but aren't limited to:
Synthetic Polymers
Natural Polymers
Inorganic Materials
Bioactive drugs
Encapsulated Actives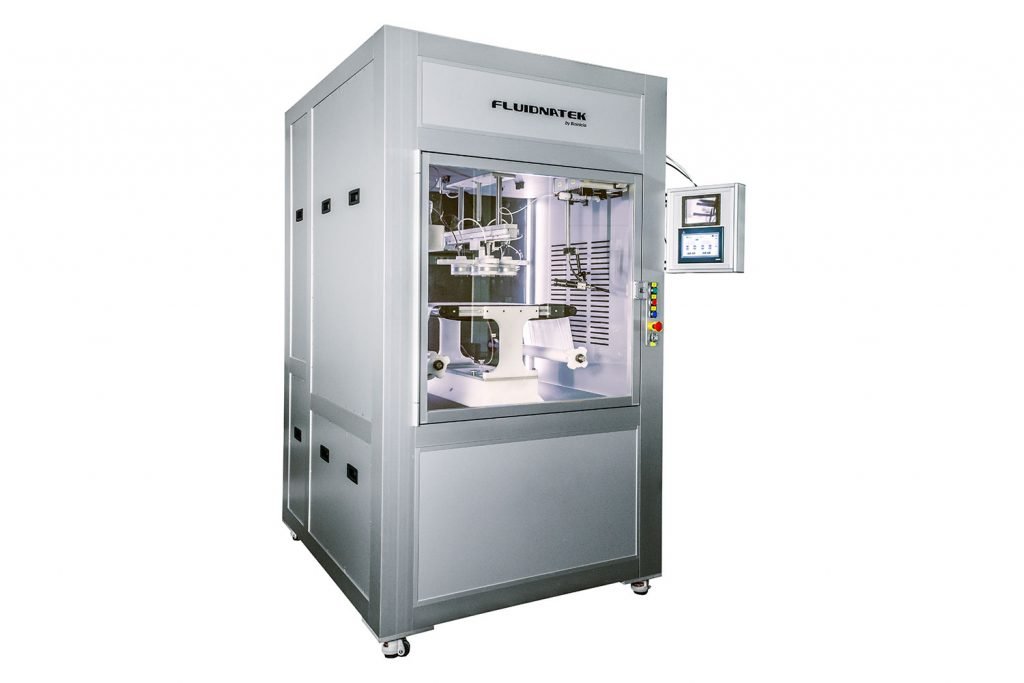 Solution for pilot scale volumes
and beta-release commercialization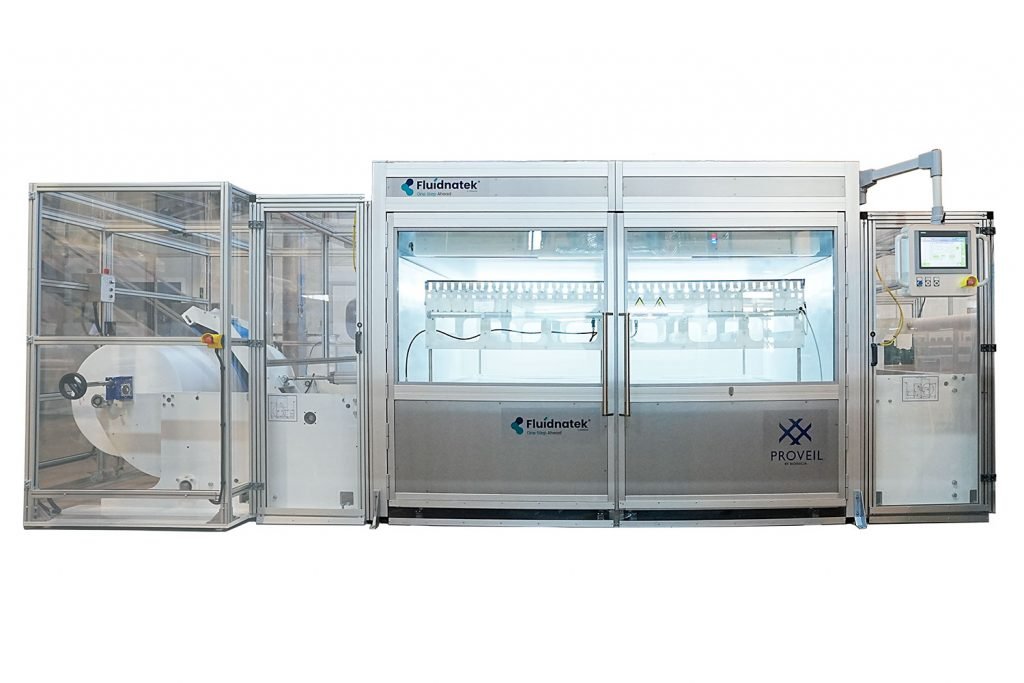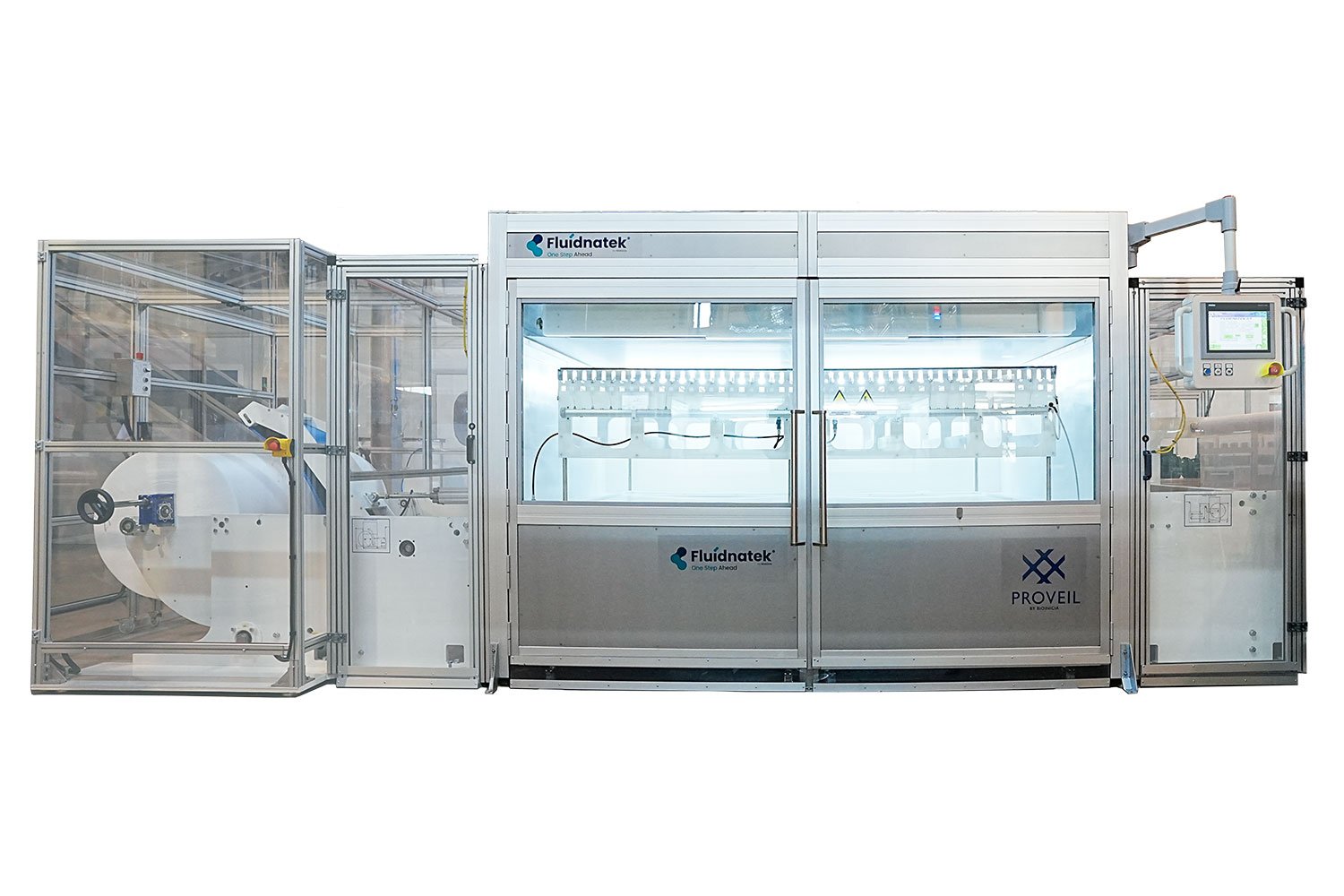 Equipped to operate 24/7 with over 5,000 simultaneous needles and refillable solution tank for uninterrupted production
The VSP-G1 Nanoparticle Generator makes generating nanoparticles as easy as pushing a button! Utilizing spark ablation technology enables this system to generate contaminant-free, size-tuned nanoparticles in an automated, controlled, and repeatable way. Produced in the gas-phase under ambient temperature and pressure via a purely physical process, nanoparticles can be produced from any conductive or semiconductive material.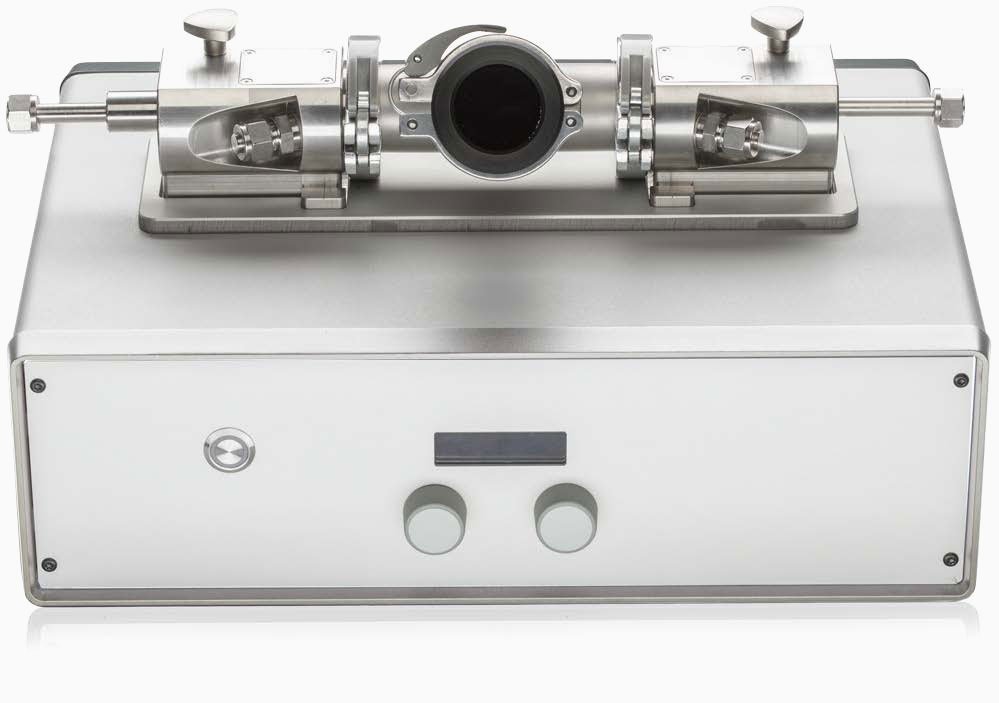 Any (semi) conductive material

Clean process – no surfactants
Plug-and-play electrodes allow users to generate pure nanoparticles or alloys, with the option to add a small amount of oxygen to the flow, which supports fabrication of oxide nanoparticles.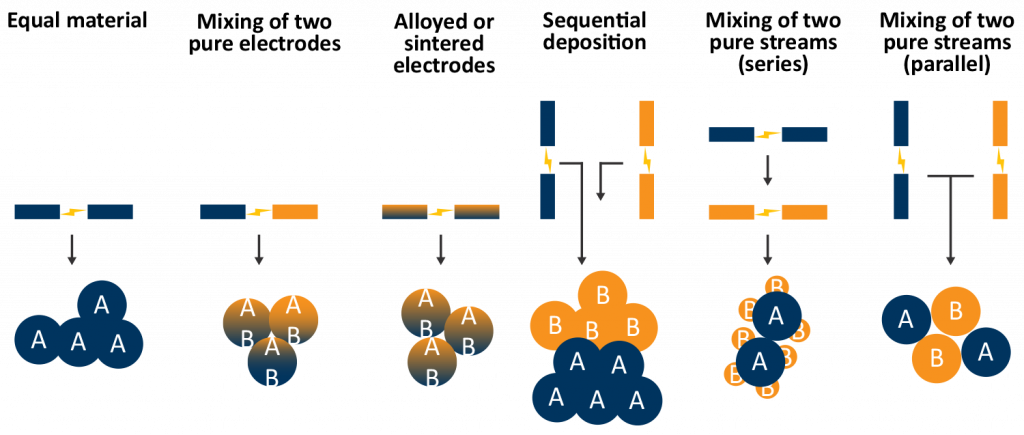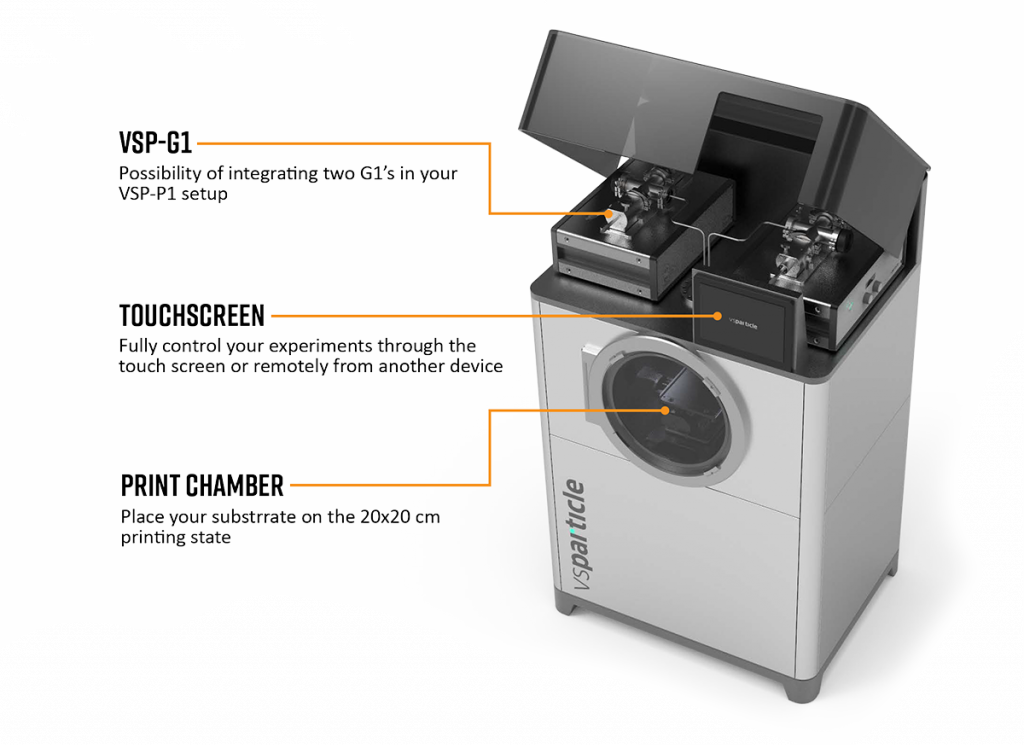 The VSP-P1 NanoPrinter is the ultimate prototyping and R&D platform for material development and small-scale production testing. Based on impaction deposition of spark-ablated nanoparticles, the system employs additive manufacturing to simplify the production of nanoporous thin films and layers with a high surface-to-volume ratio.
Deposition accessories enable collection of nanoparticles via one of three methods: diffusion, filtration, or impaction
Size selector accessory refines the aerosol stream to a monodispersion, ideal for model catalyst studies
Full Automation | 15 x 15 cm max printable area | position accuracy: 10 µm | spot size: 100 µm - 1 cm | touchscreen or remote-controlled interface