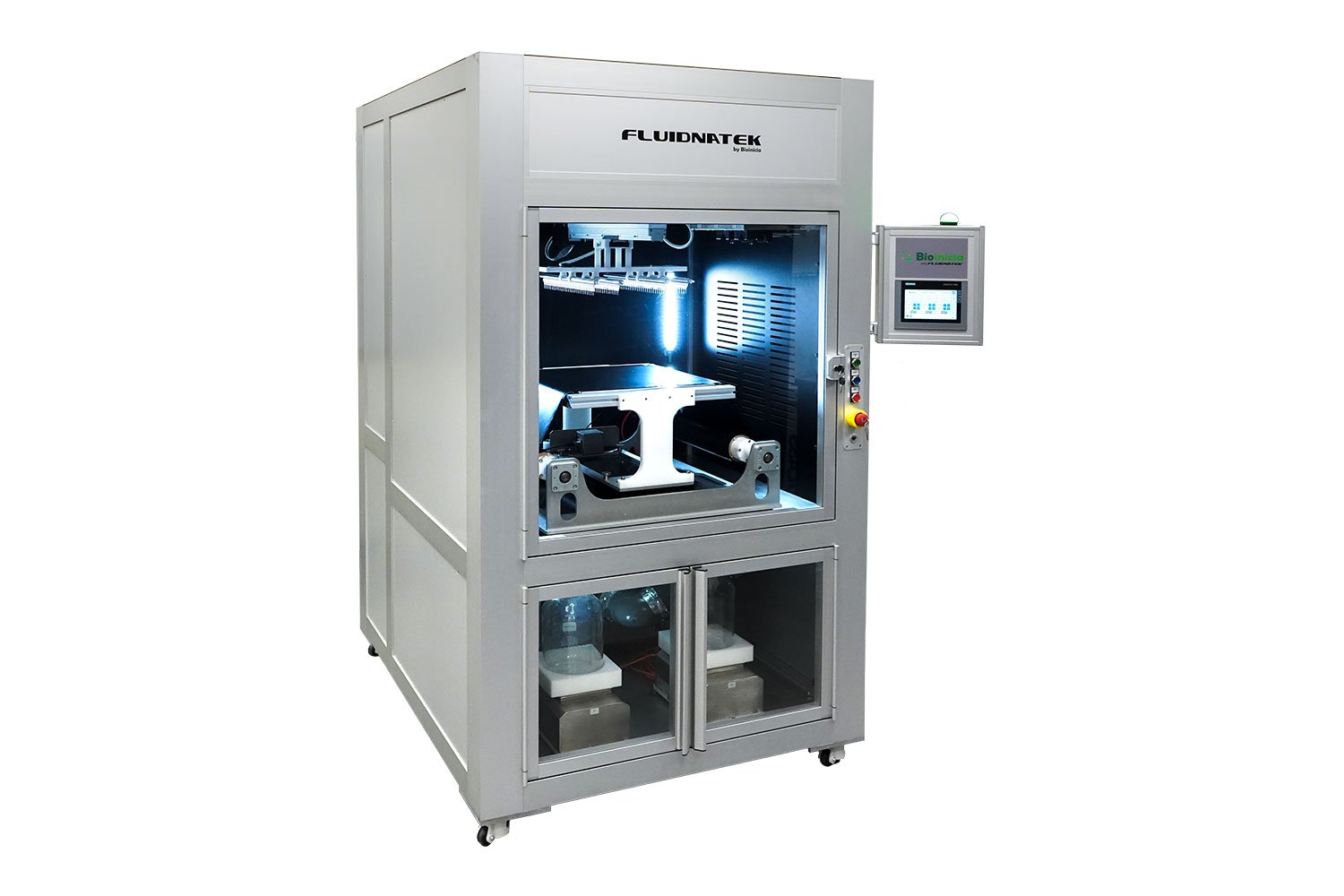 Instrument of Choice for Pilot Scale Volumes & Beta-release Commercialization
For scientists and engineers needing pre-production volumes and production-quality materials. The LE-500 can be used in advanced development projects, beta-release, and other pre-market introduction activities.
Horizontal, vertical, and angled sample processing enables high throughput and fabrication of complex structures
Full Environmental Control
Unique HEPA-filtered unit provides control over increasing or decreasing temperature (18-45°C), relative humidity (10-80%), and airflow (90-180 m3/h)
Needle-based or Needle-less
Develop samples with needle-based or needle-less emitters, or both simultaneously
Process up to 8 Liters of solution with up to 370 needles to generate pilot-scale quantities of electrospun or electrosprayed material
The LE-500 tightly controls humidity and temperature, measures sample thickness in real-time, and supports the use of a roll-to-roll collector. In addition, users can employ up to 370 emitters to produce electrospun fibers or electrosprayed particles, making this unit a powerful tool for product commercialization. Multiple optional upgradable features to improve production can also be implemented at any time. It employs the same core technology as Bioinicia's full GMP production plant. This unit is capable to be ISO-13485 for medical devices and can operate at ISO-7 clean conditions.
Pilot-scale production unit for product commercialization
Touchscreen controls
Primary high voltage power supply for the emitter
Secondary high voltage power supply for the collector
Semi-continuous liquid feeding system
Remote Ethernet access
Automated variable target distance (emitter to collector)
Temperature and humidity display
Single-phase multi-emitter spinning head
Safety shut-off switches in the access door
Actively regulated exhaust system
Talk to an
Instrumentation Specialist

Today!
Optional Upgradeable Features
Environmental capacity to tightly control temperature (18-45°C), relative humidity (10-80%) and airflow (90-180 m

3

/h)

Metrology system to measure thickness and density area in real time

Secondary stage with independent voltage to process two solutions at the same time

Multi-needle system and/or slit injector (needle-less sample process)

High definition process data hub to monitor 20+ process parameters

Needle translation to improve sample homogeneity and thickness

Rotating collector (drums, discs, mandrels)

Roll-to-roll semi-continuous collecting system

Large solution reservoirs to increase throughput

Syringe heating (30-120

°C)
UV-C lamps
Gas-assisted electrospinning head
Inlet and outlet HEPA filters
See Available Configurations
Fluidnatek equipment is extremely modular, enabling you to choose your configuration or upgrade at any time with the wide range of accessories and tools, including:
Environmental Control Unit (ECU)
Temperature from 18ºC to 45ºC
Relative humidity from 10% to 80%
HEPA filtration
Air flow control from 90 to 180 m3/h
Actively regulated exhaust system
Inert atmosphere capable
Single-phase
Coaxial (core-shell)
Triaxial
Multi-needle

—

single phase (with and without field deflectors)
Multi-needle

—

coaxial
Tubeless dispensing system
Slit Injector (needle-less)
Needle voltage
Collector voltage
Bipolar voltages
Secondary spinning stage
Flat Plate
Rotating Drum, Madrel and Disk
Roll-to-roll and Conveyor belt
Fiber yarn collection module
Improving Sample Consistency
Taylor cone camera
Solvent gas jacket
Gas-assisted electrospinning
Actively regulated exhaust system
Y-axis automated linear emitter motion
Z-axis automated regulation of needle distance
Flexible articulated mounting arm
Data login
Multi-user level access
Recipes (standard and advanced)
High-definition process data hub
Audit trail
Batch control
Smart Server (Remote Access)
Syringe pumps (single, dual, triple)
Twin channel syringe pumps
High-pressure four channel syringe pumps
Pressurized vessels
Peristaltic pump
Syringe heater
For sample thickness measurement
For sample thickness measurement and area density