There has been a lot of interest in tabletop SEMs due to their ease of use, lower cost, and minimal lab space requirements compared to floor model SEMs.
The Phenom SEM provides significant value considering the small amount of lab space it occupies. It can be setup on standard lab furniture such as a lab bench or portable tabletop, and can even reside on an office desk.
Regardless of whether you have an open tabletop with lots of room beneath, a desktop with drawers on either side of your chair, or a standard lab benchtop, there is plenty of room for the pre-vacuum pump & power supply underneath.
No site surveys are required for tabletop SEMs, either. While full-size SEMs are very susceptible to their environment, tabletop SEMs are mostly immune to vibration or electromagnetic interference, thanks to the miniaturized components.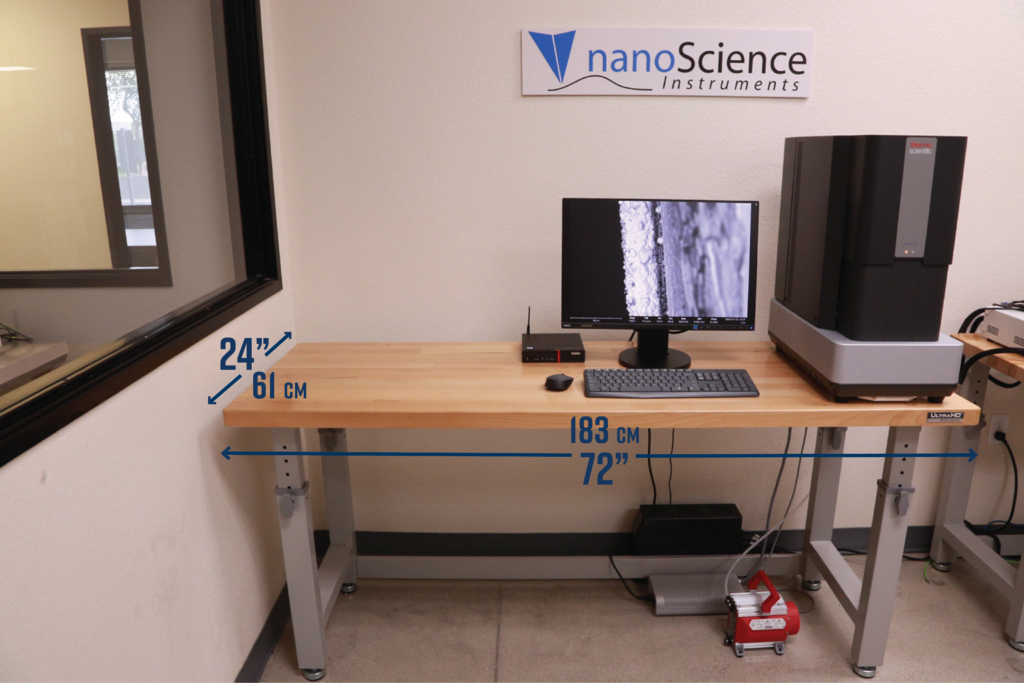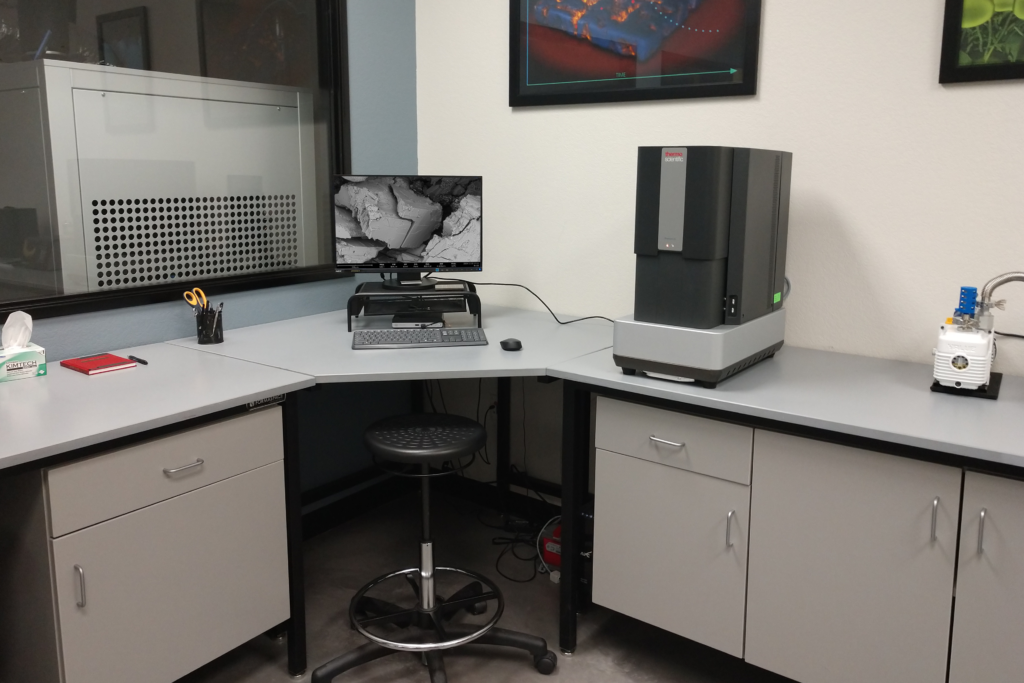 The power required for the SEM is simply a standard 120V/15A receptacle, providing even more freedom to move the SEM out of a lab and onto a classroom desk, a mobile lab unit, factory floor, or even at a public venue for outreach programs.
The max power consumption is only 250-400 W — similar to a desktop computer.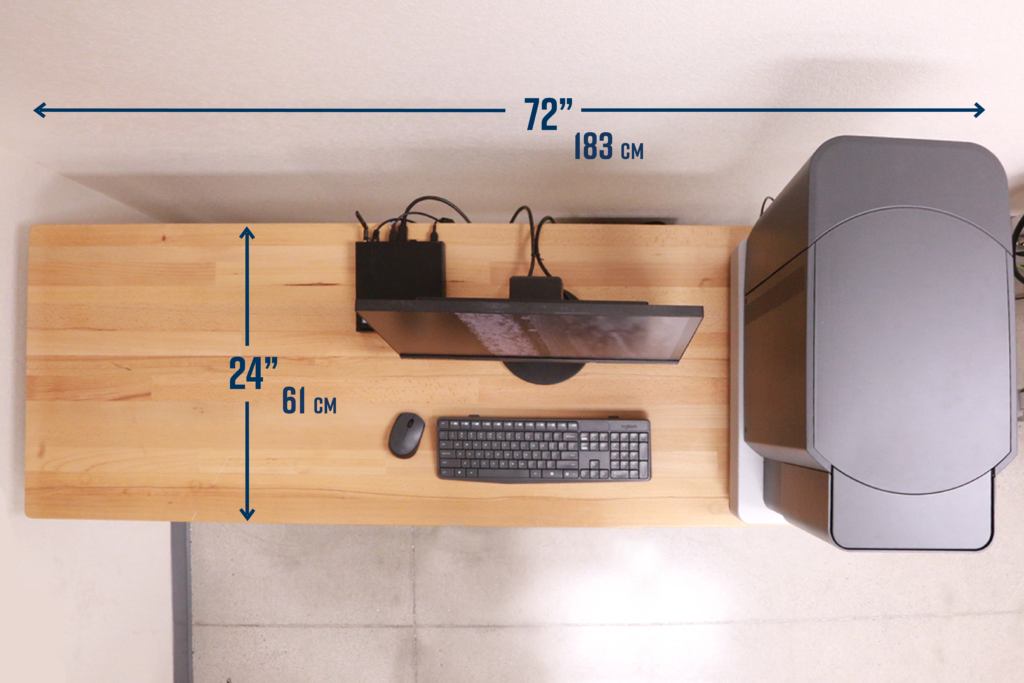 On a typical tabletop 72" wide by 24" deep (183 x 61 cm) there is ample space for the SEM, computer, keyboard and monitor, with additional room left over for sample mounting.
Tabletops and desktops tend to be of similar size, although many times desktops are deeper and provide even more sample preparation space.
---
Phenom Form Factor Specifications
Specification // Model
Phenom XL
Phenom Pharos
Phenom Pure / Pro / ProX
Typical Floor-Model SEM
SEM Size (L x W x H)
316 x 587 x 625 mm
12.4 x 23.1 x 24.6 in
75 kg / 165 lbs
360 x 580 x 590 mm
14.2 x 22.8 x 23.2 in
75 kg / 165 lbs
286 x 566 x 495 mm
11.3 x 22.3 x 19.5 in
50 kg / 110 lbs
1 m x 1 m x 2 m
3 ft x 3 ft x 6 ft
500 kg / 1000 lbs
Diaphragm pump size
145 x 220 x 213 mm
5.7 x 8.6 x 8.4 in
4.5 kg / 9.9 lbs
Same as XL
Same as XL
500 x 150 x 250 mm
19 x 6 x 10 in
20 kg / 45 lbs
Power supply
156 x 300 x 74 mm
6.1 x 11.8 x 2.9 in
3 kg / 6.6 lbs
230 x 255 x 75 mm
9 x 10 x 3 in
4.3 kg / 9.5 lbs
Same as XL
Built into main SEM unit
Monitor
531.5 x 250 x 515.4 mm
20.9 x 9.8 x 20.3 in
6.7 kg / 14.8 lbs
Same as XL
Same as XL
Two monitors of the same size
Workstation PC
Lenovo P330
92.5 x 305.6 x 343.5 mm
3.6 x 12 x 13.5 in
8 kg / 17.6 lbs
Same as XL
Same as XL
Full-size desktop PC
175 x 400 x 450 mm
7 x 16 x 18 in
10 kg / 22 lbs
Recommended table size
150 x 75 cm
5 x 2.5 ft
120 x 75 cm
4 x 2.5 ft
120 x 75 cm
4 x 25 ft
N/A
Recommended load rating
150 kg / 330 lbs
150 kg / 330 lbs
100 kg / 220 lbs
N/A
Temperature
15 – 30 oC / 59 – 86 oF
Same as XL
Same as XL
20 +/- 3 oC
Humidity
20 – 80% RH
Same as XL
Same as XL
Below 40% RH
Power type
Single phase AC 100-240 V,
50/60 Hz
Same as XL
Same as XL
Single phase AC 100-240 V (+/- 6%)
50/60 Hz (+/- 1%)
Max power consumption
300 W
400 W
250 W
3000 W
More Information
Learn more about
Phenom XL
Learn more about
Phenom Pharos
Learn more about
Phenom Pure / Phenom Pro / ProX