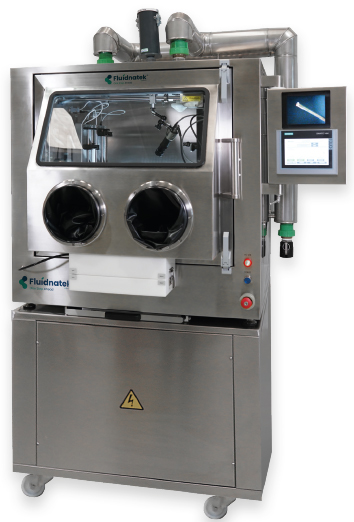 The Only Electrospinning System Equipped for Sterile Development of Medical Products
Ideal for biomedical companies requiring aseptic sample development for medical products under ISO-5 environment, cGMP, and ISO-13485 certification standards.

---
Features
The Fluidnatek LE-50 ProSterile is the instrument of choice for in-line aseptic electrospun bioprocesses, and medical device manufacturing of sterile products. This system has elevated the electrospinning technique into a new era of ultra-clean medical device processing. The LE-50 ProSterile is the first electrospinning system to offer a fully sterile process environment, enabled by its welded stainless steel interior and exterior, HEPA filtration to meet ISO-5/Class 100 cleanliness standards, and a chamber sterilization system. Glove port access allows sample handling and packaging under sterile conditions, and the vacuum antechamber removes possible traces of solvents while maintaining an exceptional standard of sterility and cleanliness. An environmental control unit (ECU) enables precision control of temperature (20-45°C), and relative humidity (10-80%) to maintain batch-to-batch reproducibility for perfect nanofibers, every time.
Selected Standard Features
Touch screen controls
Primary and negative HV power supply
Syringe pumps
Active exhaust system
Rotating collector platform
High-definition process data hub
ISO-5 cleanliness
Glove box port
Sterilization system
Vacuum antechamber
Environmental control unit
---
Specifications
| Model | Fluidnatek LE-50 ProSterile |
| --- | --- |
| Maximum sample size (mm) | 200 X 314 |
| Maximum number of syringe pumps | 3 |
| Maximum number of needles | 10 |
| Maximum voltage drop (kV) | 40 |
| Maximum volume per batch (mL) | 420 |
| Dual polarity | Optional -10kV |
| Automatable axes | 2 (X,Y) (dual optional) |
| Solvent gas jacket | Optional |
| Taylor cone visualization camera | Optional |
| Ultraclean cabinet (HEPA/ULPA exhaust filtration) | Optional |
| UV-C lamps | Optional |
| Remote ethernet access | Yes |
| Recipe-operated system | Optional |
| Actively regulated exhaust | Yes |
| Relative humidity & temperature conditioning | Yes |
| Dimension, W x D x H (cm) | 140 x 115 x 210 |
| More info | Compare with all Fluidnatek Models |