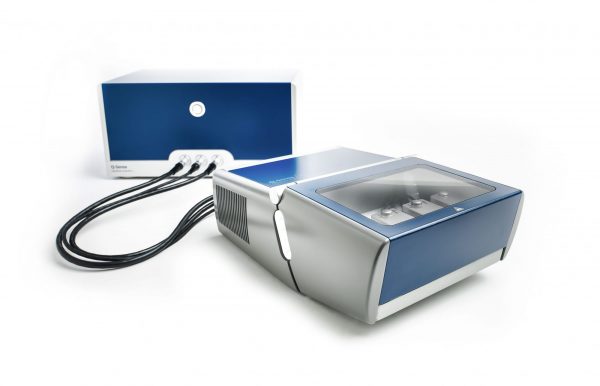 For fast sample processing at high quality
QSense Analyzer produces high-quality data from four measurements in parallel. The smart design with four removable flow modules makes it easy to set up new experiments. QSense Analyzer will quickly become a workhorse in your lab.

---
Efficient Evaluation of Parameters
Four parallel measurement modules enable evaluation of different samples, substrates, solvents, concentrations, pH, and ionic strength.
Facilitated Data Comparison
Up to four measurements displayed in easy to compare format.
Increased Throughput
Four measurements in parallel increase through-put and minimizes hands-on time.
Quantification of film properties
Data collection at high sample rate from 7 harmonics of the fundamental frequency gives maximum input for data analysis and quantification of mass, thickness, viscosity and shear modulus of the adsorbed film.
Experimental Flexibility
All optional Q-Sense modules are compatible to increase experimental flexibility.
| Category | QSense Analyzer Specification |
| --- | --- |
| Number of sensors | 4 |
| Minimum sample volume | ~200 μl |
| Temperature range, +/- 0.02 °C | 15 – 65 °C |
| Time resolution | 0.005 s |
| Harmonics | 7 |
| Quantification of mass, viscoel. prop | Yes |
| Learn more | View full specifications |