Upcoming Webinars in the Series
Live Demo
Totally Tubular! Electrospun Tubular Structures for Tissue Engineering
Live Demo
Electrospinning for Medical Devices
Tissue Engineering of tubular scaffolds such as artificial blood vessels, nerve conduits, or stents has become more commonplace with the advent of advanced functional materials. Electrospinning offers a unique way to process biocompatible polymers at lower temperatures enabling a wealth of new potential that was not previously available.
Artificial tubes several inches long, with customizable widths and adaptable structural properties can be processed to replace damaged tissue. These scaffolds can mimic native cellular architecture with tunable fiber sizes from nanometer to micrometer as well as variable pore sizes promoting celluralization, and thus acceptance by the body. Complex structures with aligned fibers wrapped inside of a sheath can be created to more readily mimic complex form factors such as nerve conduits.
This presentation will highlight some of the recent advances in electrospun tubular design focusing on the hardware capability of the Fluidnatek LE-100 with a live demonstration creating tubular structures in our lab. Please join us August 30th to get in on the action!
Registration is limited— don't miss your chance to join us for this series! We hope to see you there.
Presenter: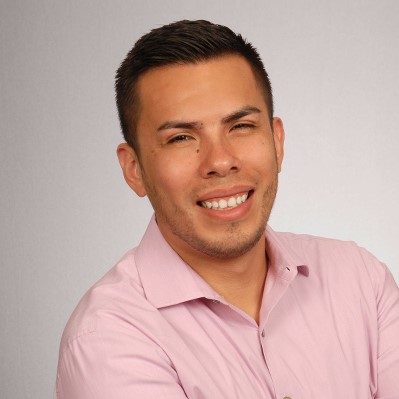 Francisco J. Chaparro, Ph.D.
Product Manager, Fluidnatek Electrospinning/Electrospraying Systems
Previous Webinars in the Series
First Webinar in the Series:
Electrospun Micro- and Nanofibers for Medical Applications
Electrospinning has become an ideal technique for generating samples for tissue engineering as it is able to reproducibly fabricate micro or nanofibers that biomimic the structural and physicochemical properties of extracellular matrix from native tissues. The large surface area offered by electrospun fibers, the cost-effectiveness of the technique, and the ability to track important parameters such as real-time sample thickness during processing make electrospinning an attractive choice for academic as well as industrial R&D.
In this webinar, you will be introduced to electrospinning and explore the fundamentals of the technique, including key parameters that influence sample reproducibility throughout the development process. Current medical applications in the field including wound healing, heart valves, nerve conduits, blood vessels, stent coating, and 3D structures will be discussed. As the electrospinning technology has significantly evolved over the past years, this webinar will also cover the future of electrospinning. We will also discuss a few specialized system configurations that are tailored towards specific applications such as industrial-scale production, cGMP and ISO-13485 regulated environments, and production of electrospun samples under sterile conditions.
Second Webinar in the Series:
Don't Get It Twisted — Why Electrospun Fiber Alignment Matters for Tissue Engineering
In the first live demo, we will focus on fiber alignment and two related fiber characteristics – porosity and mechanical strength. The talk explores different ways to incorporate porosity and alignment in the micro/nanofiber structure and its impact on cell growth and mechanical strength of the tissue scaffold.
There will be a brief overview of the typical methods used in electrospinning to control fiber characteristics. Then, Dr. Chaparro will dive into a live demonstration of the Fluidnatek LE-50 Electrospinning/Electrospraying system. He will provide practical advice for helping you achieve your desired fiber characteristics and discuss best practices for consistently producing nanofibers that meet your specifications.
---
Questions?
Please contact us with any questions regarding this webinar series or the Fluidnatek Electrospinning/Electrospraying nanomaterial fabrication systems.