Nanoscience Instruments Expands into ElectroSpinning and ElectroSpraying with Bioinicia
Produce nanofibers and nanoparticles with the revolutionary Fluidnatek® from Bioinicia
Nanoscience Instruments is proud to introduce the Fluidnatek® Electrospinning and Electrospraying line of nanofiber and nanoparticle fabrication instruments from Bioinicia. The electrospinning and electrospraying equipment scales from table-top equipment for the lab to fully automated pilot plants and equipment for industrial manufacturing. All equipment is functionally identical: recipes developed on the table-top R&D system are guaranteed to run and produce identical results on the industrial system. Fully scalable from lab to fab.
These cutting-edge instruments utilize electrohydrodynamic atomization (EHDA) to fabricate both nano- and micro-structured materials. The diverse and broad applications of the Fluidnatek® line include scaffolds and implants for regenerative medicine and biomedical applications, packaging of food additives and bioactive substances, nutraceuticals, pharmaceuticals, cosmetics, novel materials for functional textiles and advanced filtration, plus more.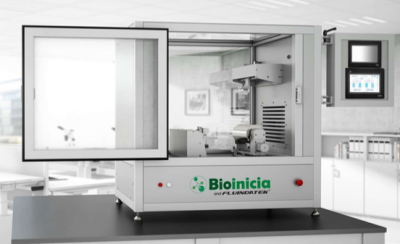 About the Technology
The core of the Fluidnatek® line is eStretching technology, a proprietary multifunctional mono- and multi-axial electrospinning and electrospraying process. Based on the classic principles of electrostatic electrospinning and electrospraying, eStretching combines a novel emitter design and controlled fluid delivery systems to yield stable and reproducible size controlled fiber and particle fabrication. This novel process overcomes the typical hurdles that have made the scale-up and industrial adoption of electrospinning so difficult in the past.
The proprietary eStretching process combines high voltage with high gas flows to fabricate micro- and nanomaterials. Liquid flows through a capillary tube in front of a counter-electrode, which acts as a collector while high voltage is applied between the tube and collector. There is a range of electrical voltages where the meniscus anchored at the tip of the tube turns into a stable cone and a very thin liquid jet is emitted from its apex. Depending on the rheology of the liquid, the jet breaks up into droplets (electrospraying) or undergoes a whip-like motion (electrospinning).
The system allows for tight processing controls including advanced environmental controls, allowing scalability of initial concept products to full-scale production. The system also allows users to control the size, shape, and structure of the nanofiber or nanoparticle. Whatever the desired shape or size, flexibility was designed into the equipment. With the unique sterility requirements for Pharmaceutical, Biomedical and Food Manufacturing in mind, the equipment was designed to meet ISO and cGMP certification for drug, cosmetic and food product innovations.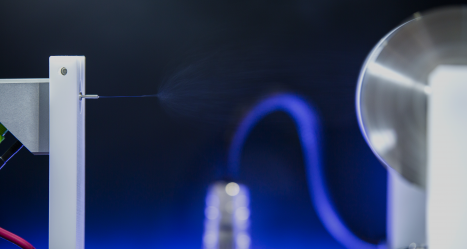 About the Applications
"The applications and research being done with the Fluidnatek® electrospinning equipment are truly remarkable," says Sebastian Kossek, co-founder of Nanoscience Instruments. "Nanofiber scaffolds are being evaluated for wound healing and are used to generate artificial organs. For example, implantable artificial intestines, arteries, and heart tissue have been produced with the Fluidnatek equipment, enabling new approaches to tissue engineering and regenerative medicine research. The control of the fiber orientation allows for more predictive screening for toxicity, drug screening and cell-based assays for more effective cancer and stem cell research."
Advancing Research
"The addition of these fabrication capabilities align with our goals to bring accessible scientific instrumentation from research level in academia into industry applications," says Mark Flowers, co-founder of Nanoscience Instruments. "The diverse applications that will take advantage of this technology are many, from food to biomedicine. It's exciting to consider potential problems that this technology will be able to solve."
The Fluidnatek® was designed to manufacture a large variety of materials to be either spun or sprayed; any material in a solution, emulsion, or in any solvent can be used to create the nanofibers or nanoparticles. Electrospinning is an exceptional technique to generate size-controlled fibers of many different materials and non-woven mats of fibers. These non-wovens exhibit potential for a highly active area and porosity.
"Materials can be processed at room temperature, which is a huge benefit. It makes it easier to work with thermally sensitive materials, such as live cells, enzymes, and microorganisms" says Mark Flowers. "Companies have been interested in the encapsulation capabilities to enhance bioavailability, mask flavors and extend shelf-life, particularly the encapsulation of DHA – Omega 3 oil, natural essences, and other bioactive materials because of this capability."