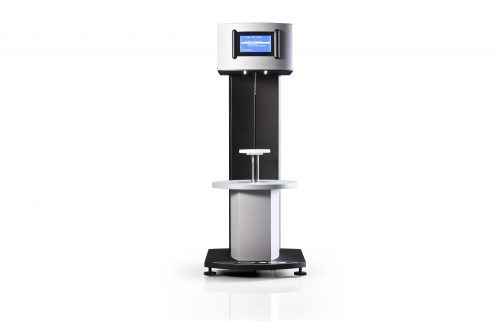 The Sigma 702ET is specifically designed for Transformer Oil Analysis. Supporting both IEC 62961 and ASTM D971 standards, this standalone force tensiometer provides accurate surface and interfacial tension measurements (Platinum Du Noüy ring, Platinum Wilhelmy Plate) between a transformer oil and water as a quality control measure for the oil. It's easy to use and is up and running in minutes.
Accurate Measurements of:
Interfacial tension between transformer oil and water (ASTM D971 and IEC 62961)
Surface tension
Interfacial tension
Critical micelle concentration (CMC) (manual)
Density

---
Features
Sigma 702ET is designed for oil-water interfacial tension measurements in accordance to the ASTM D971 and IEC 62961 standards. The embedded software will guide the user throughout the measurement and make sure the measurement is done automatically and in compliance with the ASTM D971 standard.
The standalone system operated by the keyboard at the instrument – shows the results instantly on a large integrated digital screen. Results can be printed or imported to PC if desired.
The ASTM D971 Standard method for interfacial tension of oil against water by the ring method is used to determine the possible contaminates of hydrocarbon fluids as well as the an indicator of the cetane number of diesel fuels. The purity of hydrocarbon fluids is important quality measurement for diesel fuels and transformer oils for determining purity of diesel fuels and transformer oils. The cetane number od diesel fuels is used to define the quality of combustion during ignition. A decrease in interfacial tension occurs for example due to accumulation of contaminants or due to formation of oxidation by-products. The impurities in the hydrocarbon fluid encourage the oil to mix with water.
The instrument allows the measurement do be done fully automatically. A high interfacial tension value (40mN/m) indicates the absence of undesirable polar contaminants in the hydrocarbon fluid which means that the fluid is immiscible with water.
Transformer oil testing
An important use of the standard is the testing of insulating oils. Insulating oils are used in power transformers to provide cooling, insulation and protection against corona and arcing. Transformers are used especially by electrical industry to transfer electrical energy from one circuit to another. Transformer oils are exposed to mechanical and electrical stress as well as to chemical contaminations during the operation of the transformer. These lead the original properties of the transformer oil to change within time, which can reduce the functionality of the oil. To maintain and extend the life of the power transformer, regular testing of the transformer oil is required. The ASTM D971 standard is used in the process of defining the general electrical and physical properties of transformer oil.
---
Specifications
Model

Sigma 702 ET

Available Measurements
Surface Tension
Yes
Interfacial Tension
Yes
Critical Micelle Concentration
Manual
Dynamic Contact Angle
No
Surface Free Energy
No
Powder Wettability
No
Density
Yes
Sedimentation
No
Balance Specifications
Measturing range (mN/m)
1 – 1000
Displayed resolution (mN/m)
0.01
Density Range (g/cm3)
0 – 2.2
Density resolution (g/cm3)
0.0001
Maximum Load (g)
5
Weighing Resolution (mg)
0.01
Force Resolution (μN)
0.1
Contact angle range (°)
—
Contact angle resolution (°)
—
Calibration & Locking
Manual
More info
Compare all Sigma Tensiometers