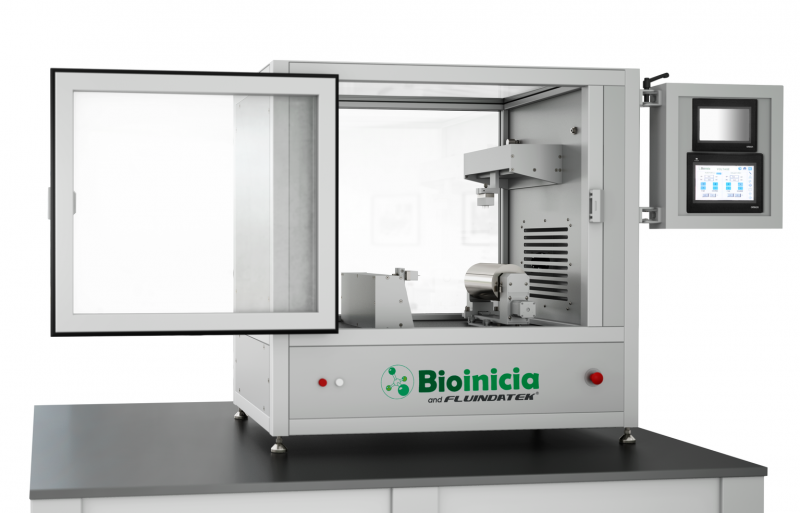 Ideal Benchtop Laboratory Unit to Fit Small Spaces
Ideal for proof-of-concept and feasibility developing new materials and formulations. The Fluidnatek® LE-50 electrospinning machine combines the compact, lightweight characteristics of a benchtop lab LE-10 machine and the features of an advanced research station.
---
Features
This unit offers multiple optional features to assess your production and application needs. An optional environmental control unit can tightly control humidity and temperature conditions to maximize electrospun fibers and electrosprayed particles productivity and reproducibility.
Selected Standard Features
Small scale production for advance development
Touch screen controls
Primary high voltage supply and non-regulated negative high voltage collector
Syringe pump
Variable target distance (emitter to collector)
Safety shut-off switches in access doors
Sealed cable pass-through
Temperature and relative humidity display
Passive solvent exhaust system
Optional Upgradeable Features
Environmental capacity to tightly control temperature and relative humidity
Adjustable negative high voltage power supply to improve deposition
Secondary syringe pump with co-axial spinning head
Secondary scanning emitter stand
Gas-assisted electrospinning head
Multi-emitter spinning head (single or co-axial)
Taylor cone visualization system
Rotating collectors (drums, discs, mandrels)
Single axis automated scanning emitter motion
Syringe heating (up to 120℃)
Sample development at ISO-7 or ISO-5 conditions
---
---
Specifications
| Model | Fluidnatek LE-50 |
| --- | --- |
| Maximum Width of Samples (mm) | 200 X 314 |
| Maximum number of syringe pumps | 2 |
| Maximum number of needles | 10 |
| Maximum Voltage Drop (kV) | 40 |
| Maximum volume per batch (mL) | 280 |
| Dual Polarity | Optional -10kV |
| Automatable axes | 2 (X,Y) (dual optional) |
| Solvent Gas Jacket | Optional |
| Taylor cone visualization camera system | Optional |
| Ultraclean Cabinet (HEPA/ULPA Exhaust Filtration) | Optional |
| UV-C lamps | No |
| Remote ethernet access | Yes |
| Actively regulated exhaust | Optional |
| Relative humidity & temperature conditioning* | Optional |
| Dimension, W x D x H (cm) | 85 x 57 x 85 |
| More info | Compare with all Fluidnatek Models |
*5 years of process control expertise (Up to 45°C and up to 90% relative humidity)