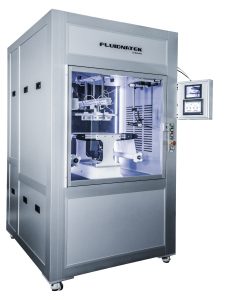 Instrument of Choice for Pilot Scale Volumes & Beta-release Commercialization
For scientists and engineers needing pre-production volumes and production-quality materials. The LE-500 can be used in advanced development projects, beta-release, and other pre-market introduction activities.

---
Features
The ability to tightly control humidity and temperature, along with capabilities to work under sterile conditions, usage of a roll-to-roll and up to 370 emitters during electrospun fibers or electrosprayed particles production and measure sample thickness in real time, makes this unit a powerful tool for product commercialization. Multiple optional upgradable features to improve production can also be implemented at any time. It employs the same core technology as Bioinicia's full GMP production plant. This unit is capable to be ISO-13485 for medical devices and can operate at ISO-7 and ISO-5 conditions.
Selected Standard Features:
Pilot-scale production unit for product commercialization
Touchscreen controls
Primary high voltage power supply for the emitter
Secondary high voltage power supply for the collector
Semi-continuous liquid feeding system
Remote Ethernet access
Automated variable target distance (emitter to collector)
Temperature and humidity display
Single-phase multi-emitter spinning head
Safety shut-off switches in the access door
Actively regulated exhaust system
Optional Upgradeable Features:
Environmental capacity to tightly control temperature, relative humidity and airflow
Syringe pumps with single, co-axial and tri-axial spinning heads
Roll-to-roll semi-continuous collecting system
Secondary spinning stage with independent power supply
Gas-assisted electrospinning head
Multi-emitter spinning head (single or co-axial)
Taylor cone visualization system
Rotating collectors (drums, discs, mandrels)
Solvent-gas jacket
Syringe heating (up to 120℃)
UV-C lamps
Inlet and outlet HEPA filters
Sample thickness measurement in real-time
---
---
Specifications
| Model | Fluidnatek LE-500 |
| --- | --- |
| Maximum sample size (mm) | 500 X roll capacity |
| Maximum number of syringe pumps | 3 |
| Maximum number of needles | 370 |
| Maximum voltage drop (kV) | 80 |
| Maximum volume per batch (mL) | 8,000 |
| Dual polarity | Standard -30kV |
| Automatable axes | 2 (Y,Z) |
| Solvent gas jacket | Optional |
| Taylor cone visualization camera | Optional |
| Ultraclean cabinet (HEPA/ULPA exhaust filtration) | Optional |
| UV-C lamps | Optional |
| Remote ethernet access | Yes |
| Recipe-operated system | Optional |
| Actively regulated exhaust | Standard |
| Relative humidity & temperature conditioning | Optional |
| Sterile/biomedical device configurations available | Yes |
| Dimension, W x D x H (cm) | 162 x 160 x 220 |
| More info | Compare with all Fluidnatek Models |