Attension Theta Flex is an advanced and versatile contact angle meter for highly accurate measurements of static and dynamic contact angle, 3D surface roughness, surface free energy, surface and interfacial tension, and interfacial rheology. The complete range of measurements include:
Static contact angle
Dynamic contact angles
Surface free energy
Surface tension
Interfacial tension
Batch contact angle
Roughness corrected contact angle
Interfacial rheology (viscoelasticity)
High pressure and high temperature measurements

---
Features
The Attension Theta Flex is packed with smart features including real-time image acquisition of droplet volume is calculated from the real-time image with advanced machine vision to ensure repeatability. Theta can be combined easily with a number of modules that bring power and additional capabilities to the system. Theta's camera offers the best imaging features in the market to enable capturing the fastest wetting phenomena up to 3009 frames per second and experiencing the most precise drop shape analyses with 1984 x 1264 pixel resolution.
Easy to use
Modular & upgradeable
Automatic disposable tip dispenser
Predict emulsion and foam stability using the pulsating drop module
High pressure chamber for enhanced oil recovery improvement
Picoliter dispenser used for inkjet application as well as studying the wettability of small substrates
Measurment environmental control with electrically headed temperature and environmental chambers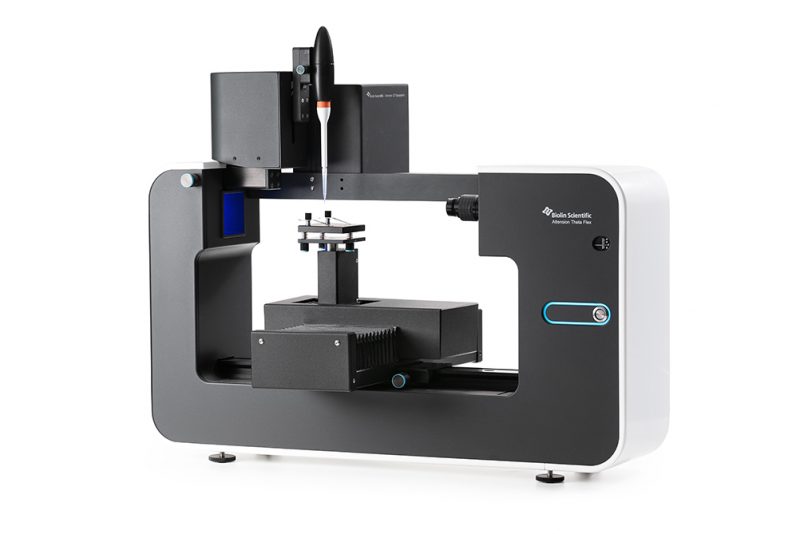 module takes the wettability and adhesion analysis to a completely new level. The first system that can measure both contact angle and surface roughness of the sample in a single measurement while calculating the contact angle without the effect of roughness.
Integrated method to define contact angle and surface roughness
2D and 3D surface roughness characterization
Automatic disposable tip dispenser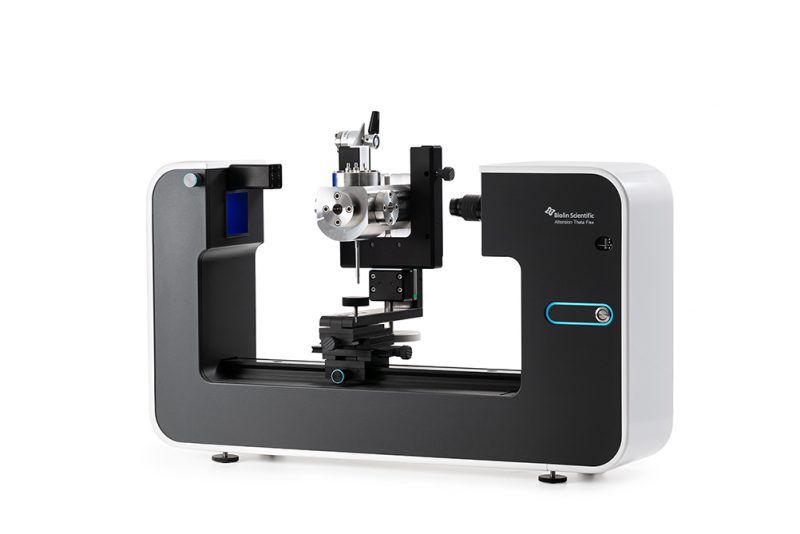 module enables measurements at pressures up to 400 bars and temperatures up to 200 °C. Designed for enhanced oil recovery and supercritical fluid applications.
Smart sample port for direct introduction of sample with syringe bypassing the pump
High resistant chamber minimizes corrosion risk
Automated pressure control
---
Measurements
Contact Angle Measurement:
Surface Free Energy Measurement:
Surface and Interfacial Tension Measurement:
---
OneAttension Software
OneAttension for all tensiometry with quick and intuitive startup and performance. OneAttension control software for analysis of drop shapes. It uses, for example, the Young-Laplace equation as a reference method and can fit the entire drop profile. It complies with the promise of performance and simplicity:
Fully automatic measurements avoid user dependent variation and save time.
Select ready-made experiment recipes or create custom programs for quick and repeatable operations.
Automatic baseline detection and drop shape fitting
Contact angle on curved surfaces (circular or near-circular)
Flexible and programmable frame per second rate recorded by the camera
OneAttension is an all-inclusive software that enables immediate access to all measurement capabilities with no need to purchase and install separate software modules. It features an intuitive user interface, live analysis, configurable user groups and accounts and a preset liquid database. Any data point or groups of data points can be selected, transformed, plotted and analyzed. The in-depth analysis takes seconds and data can be easily exported.