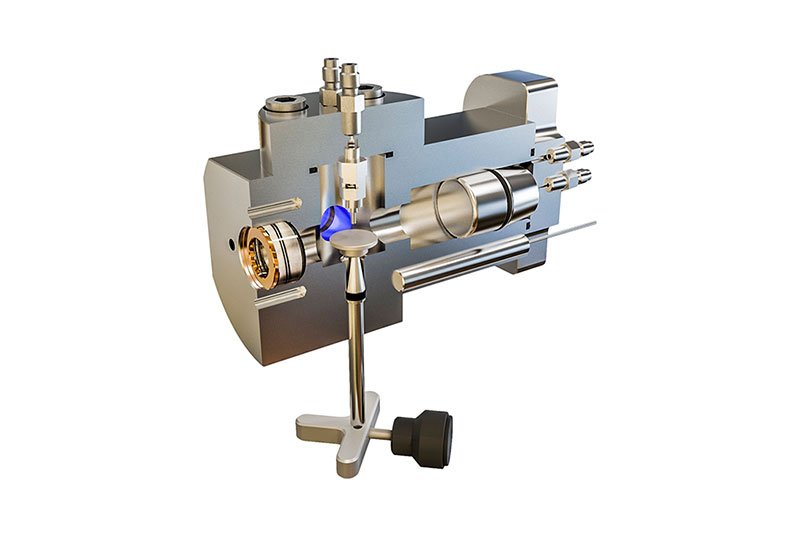 The Attension® Theta High Pressure is a tensiometer for measuring wettability and interfacial tension at high pressures and high temperatures. The instrument is designed to ensure ease during measurements in the extreme conditions necessary for research into applications such as enhanced oil recovery or fuel storage.
Measure surfactants or corrosive liquids.
Increase pressure without adding fluid into the measurement cell.
Enables constant surfactant concentration over different pressures.
Smart design to avoid pump corrosion from brine and other corrosive bulk solutions
Special Sample Port for easy introduction and cleaning
Automatic Pump Option
Talk to an
Instrumentation Specialist

Today!
The instrument consists of high-quality parts that ensure the ease of use, functionality, and safety of the system. The chamber itself is made from corrosion resistant stainless steel and can be optionally offered to be made from Hastelloy instead. The chamber includes three windows for visualizing the interphase. The chamber can be placed either in an upright or inverted position which removes the need for using hooked needles as the same straight needle can be used independently of the phases. The chamber sits on the Attension Theta optical tensiometer which uses Full HD-resolution camera to image the interphase precisely.
The unique piston enabling accurate and convenient surfactant and brine studies is placed inside the measurement chamber. Next, to the chamber, a sample port is situated which is used for introducing the sample and for flushing the sample line easily. All other valves are integrated to a valve door to be able to safely and conveniently open and close the desired pressure lines. The valve door is a part of the larger safety cabinet that makes the system exceptionally safe to use.
Easy to use
Intuitive software with high functionality
Minimal corrosion risk
Liquid and gas studies
Automated pressure control
Versatility in Measurements
Automatic droplet creation