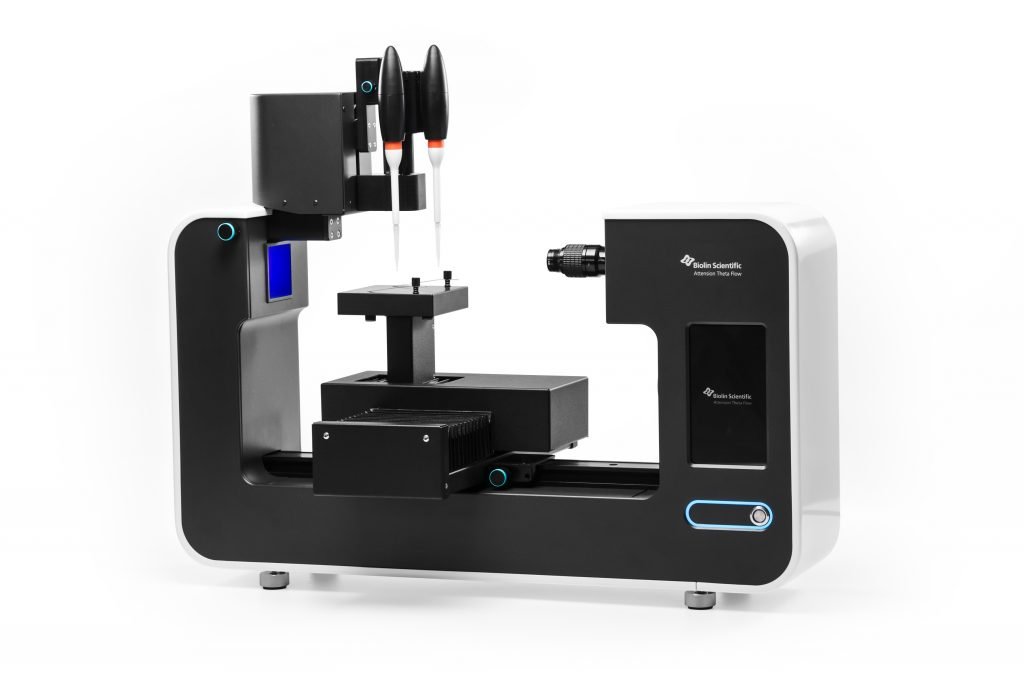 The Theta Flow is a premium instrument for measuring contact angle, surface tension, surface free energy, dynamic contact angle, and more. With a focus on practical, everyday usage, Theta Flow adds a collection of features that automate or sense key instrument settings, thereby improving data quality and repeatability with minimal user effort.
A full list of possible measurements supported by Theta Flow are:
Static contact angle
Dynamic contact angles
Surface free energy
Surface tension
Interfacial tension
Batch contact angle
Roughness corrected contact angle
Interfacial rheology (viscoelasticity)
High pressure and high temperature measurements
---
Watch a short demo video about the Attension Theta Flow:
---
Features
The Theta Flow was designed with meticulous attention to detail and delivers a user-friendly experience while maintaining accuracy across experiments. Theta Flow's design includes integrated sensors for commonly overlooked factors such as camera tilt angle, system levelness, temperature, and relative humidity which can all affect experimental reproducibility.
Theta Flow's many high-end features work synergistically to ensure a faster workflow and consistently reproducible results—independent of day-to-day or operator-to-operator variation:
Touchscreen to control automated components using context-sensitive sliders, streamlining and ensuring consistency in experimental setup
Large 12 cm x 12 cm sample stage accommodates larger samples and allows for more measurements per sample
Powerful 5-Megapixel camera with software controlled autofocus delivers superior image definition and sharp contrast for accurate, user-independent contact angle measurements
---
The OneAttension software suite supports Theta Flow's carefully designed hardware with all-inclusive data acquisition and data analysis, enabling immediate access to all measurement capabilities—no need to purchase and install separate software modules. OneAttension's user interface is designed to intelligently display all relevant environmental measurements and experiment settings.
With a focus on automation for a streamlined workflow and accurate results, Theta Flow allows you to:
Easily configure user groups and accounts for optimal data traceability
Choose a testing mode from OneAttension's extensive menu of available measurements
Adjust settings for automated hardware components and quickly set up experiments directly from the instrument's touchscreen
Sit back and watch Theta Flow automatically enhance the drop image with its exclusive new DropletPlus technology, and collect and analyze your data in real-time on the live results plot and/or live results table
DropletPlus, available exclusively on Theta Flow, automatically optimizes camera focus and contrast settings to deliver consistently exceptional definition and contrast between the substrate, drop, and background: